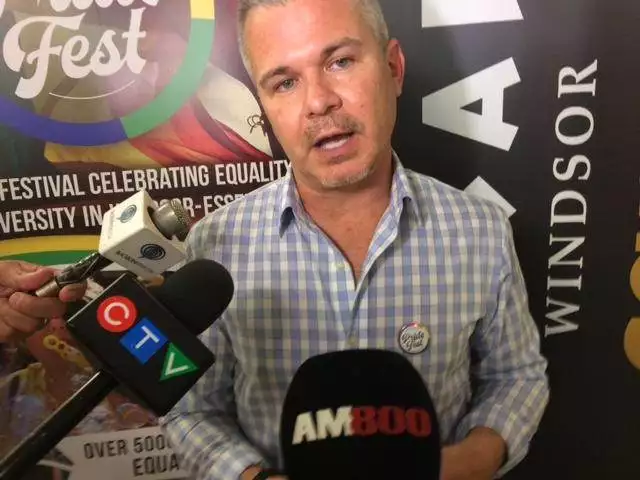 Photo: Windsor-Essex Pride Fest President David Lenz, June 5, 2019 (by AM800's Peter Langille)

AM800
June 6, 2019 10:37am
Caesars Windsor Cares is giving support to Windsor Essex Pride Fest.
The organization is donating $6000 to help with two of the 16 programs offered to the LGBTQ2S community.
The money will help with the weekly Gaymes Night and the QConnect Plus Group.
Caesars Marketing Vice President Mary Riley says this reflects how Caesars is part of all aspects of the community.
"It's one of the ways that we're able to support our community," says Riley. "We have employees and customers that are members of the LGBTQ2S community and we support them and Caesars supports and environment where everybody can feel comfortable and feel welcome."
Pride Fest President David Lenz says the funding makes a real difference.
"It really helps really with facilitatting the actual programs themselves," says Lenz. "So it pays for food and beverage. It pays for facilitation for the workers that are doing the events and the programs so it's a huge help for us. We do raise money from the festival throughout the year but it's not enough to support those 16 programs."
Lenz adds the QConnect Plus Groups is just starting and will address the older LGBTQ2S population.
"So it's 30 plus for those people that are not interested in going to a bar or not interested in doingthose kinds of things," notes Lenz. "It's more a sit down, let's have a pot luck. Let's watch a movie, just simple things for that social interaction."
The Gaymes Night offers a place for people who may not be "out" to their family or friends to interact with other members of the LGBTQ2s community.
By: Peter Langille