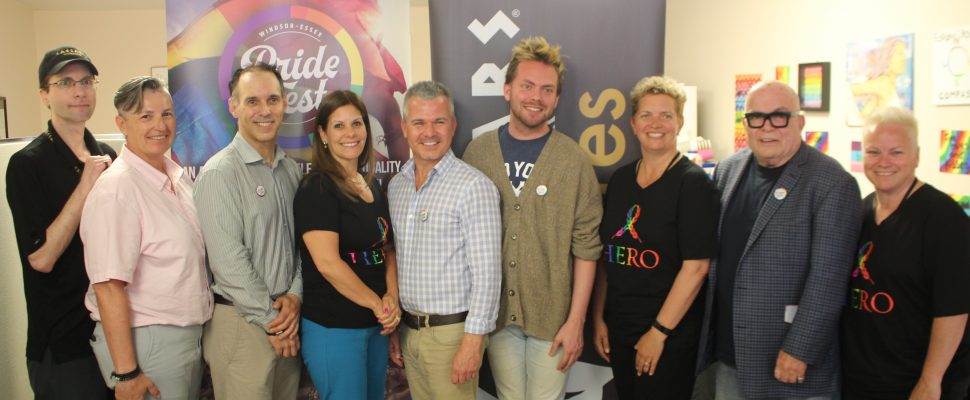 Mary Riley of Caesars Windsor, fourth from left, and David Lenz of Windsor-Essex PrideFest, centre, join representatives from both on June 5, 2019. Photo by Mark Brown/Blackburn News.
Blackburn News
June 5, 2019 6:00pm
The community service arm of Caesars Windsor is helping with a pair of programs run by Windsor-Essex PrideFest.
Caesars Cares is providing $6,000 to PrideFest to help promote two networking programs run by the organization that supports the region's LGBTQ+ community. Gaymes Night (pronounced "games"), is an event running every Thursday evening in which people of all ages are invited to meet and play board games in a non-judgemental and relaxed atmosphere. QConnect Plus, which will meet monthly, is geared toward those 30 and older and features movie nights, guest speakers and social events.
Mary Riley, vice-president of marketing for Caesars Windsor, said the casino has always tried to market toward the LGBTQ+ community, but they wanted to help these programs grow locally.
"We provide resources such as the donation we gave to make sure that the community continues to flourish and grow," said Riley.
June is Pride Month, with events and observances taking place across the continent, with an increased significance this year, the 50th anniversary of the modern gay rights movement. The 1969 riot at Stonewall Inn, a gay club in New York's Greenwich Village, is considered by many to be the flashpoint of the LGBTQ+ movement. To that end, David Lenz, president of Windsor-Essex PrideFest, said he believes the donation toward this pair of programs will encourage more people to use them.
"The LGBT community is a marginalized group, so this really helps," said Lenz. "For people who are not 'out' to their family or friends, or they're not connected to the community, or they're elder and don't hang out with young people at the bar anymore, these are the type of programs that really help them."
The QConnect Plus group is set to start meeting in July, said Lenz.
By Mark Brown