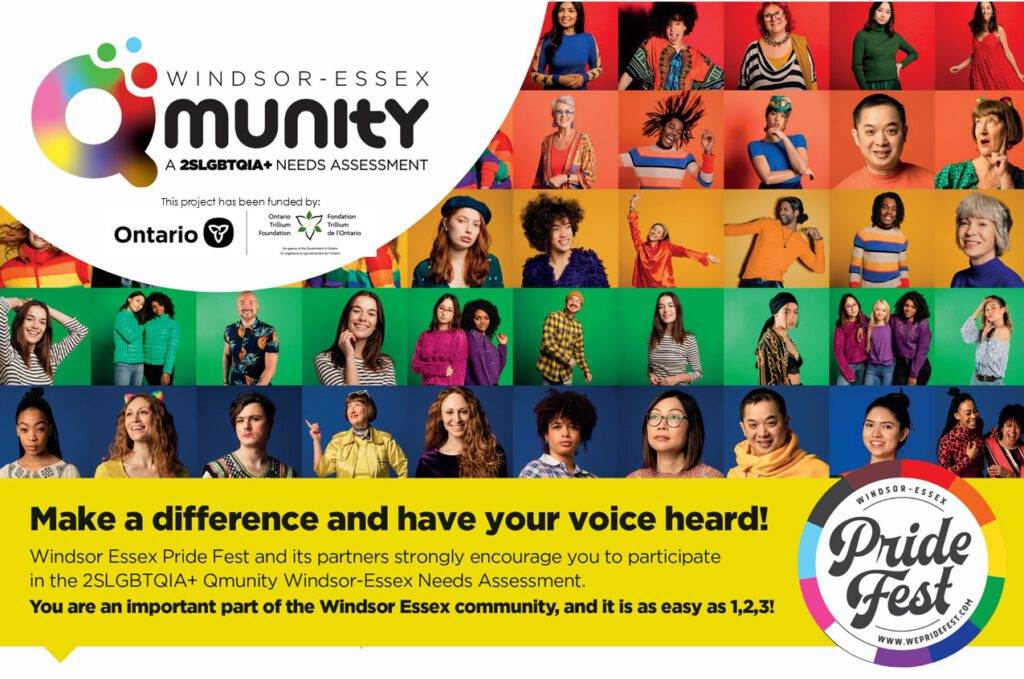 Windsor-Essex Pride Fest received a Resilient Communities grant from the Ontario Trillium Foundation (OTF) to conduct a regional assessment of needs in the local 2-Spirit, Lesbian, Gay, Bisexual, Trans, Queer, Intersex, and Asexual (2SLGBTQIA+) community. While this will help the Windsor-Essex Pride Fest provide better and more relevant programming, the ultimate vision is Windsor-Essex as a place where all members of the 2SLGBTQIA+ community can thrive.
Windsor-Essex is home to a diverse and intersectional 2SLGBTQIA+ community. As individuals and as a community, we are strong, resilient, and resourceful. But research shows that our community is disproportionately affected by physical and mental health issues, and economic, social, and political inequities. While awareness is growing, 2SLGBTQIA+ needs are often overlooked or misunderstood.
The information you provide to the Windsor-Essex Pride Fest in this completely anonymous needs assessment survey will be used by service providers and community leaders across Windsor-Essex and beyond to develop and deliver 2SLGBTQIA+ programs and services over the next ten years. This survey is open to all 2SLGBTQIA+ community members no matter what your age – and we need to hear from friends, family, and allies.
HELP SHAPE THE FUTURE FOR THE WINDSOR-ESSEX 2SLGBTQIA+ COMMUNITY, IT'S AS EASY AS 1,2,3!
COMPLETE THE NEEDS ASSESSMENT SURVEY
Make a difference and make your voice heard, please complete the Qmunity Windsor-Essex Needs Assessment Survey.
CAN'T COMPLETE SURVEY ONLINE? Please download a PDF version of the Qmunity Windsor-Essex Needs Assessment for the respective group 2SLGBTQIA Member, Family, Friend, or Ally. (Download Link Coming Soon)
What is a Needs Assessment?
A needs assessment involves identifying needs or gaps between a current and desired state in order to make improvements. In simpler terms, a needs assessment helps us to determine what must be done to improve the current state.
In this case, the goal of the needs assessment is to improve the lives of 2SLGBTQIA+ individuals in Windsor-Essex County. By learning more about needs and gaps from members of the 2SLGBTQIA+ community, service providers, decision-makers, and other key stakeholders, through surveys, focus groups, interviews, and community consultations, this needs assessment will provide the building blocks to:
Inform new or better services for 2SLGBTQIA+ identified residents,
Address systemic inequity that impacts the 2SLGBTQIA+ community,
Build networked capacity that supports providers offering services to 2SLGBTQIA+ community members, and
ultimately, improve the lives and outcomes for members of the 2SLGBTQIA+ community.
The last formal 2SLGBTQIA+ needs assessment in Windsor-Essex was done more than a decade ago. However, the landscape has changed in recent years and Windsor-Essex Pride Fest feels the time is now for a comprehensive assessment to be completed.
Research is clear that 2SLGBTQIA+ individuals are especially vulnerable and are at greater risk for poor health outcomes, loss of employment, lower income, financial insecurity, and losing access to safe and secure housing. COVID also had a significantly greater impact on 2SLGBTQIA+ individuals in these areas.
Advocacy for

trans

and non-binary voices has been growing, as has awareness of

discrimination

faced by this community. There are significant identified gaps in programs and services for

trans

and non-binary individuals.
Organizations, now more than ever and are expected to take concrete steps to create more diverse, equitable, and inclusive services and workplaces.
At the same time, the COVID-19 pandemic provided opportunities for many organizations to think differently about service delivery, fostering creative and innovative responses and a willingness to think beyond the commonplace and traditional.
All of this together makes a needs assessment timely and an excellent opportunity to take the next step in improving systemic supports for the 2SLGBTQIA+ community in Windsor-Essex.
How Will The Needs Assessment Work?
The Needs Assessment will occur from June 2022 to July 2023 in three main phases:
Pre-assessment Phase: COMPLETED
Building a strong foundation by creating a diverse Advisory Committee and defining the needs assessment scope.
Assessment Phase: IN PROGRESS
Learning about the environment and key stakeholders, engaging with the community to identify needs, and analyzing the data gathered.
Post-assessment Phase:
Validating findings, setting priorities, mobilizing decision-makers, and planning for action.
How Will The Needs Assessment Change Things?
Understanding needs is important but action is crucial. The final step of the needs assessment will focus on taking the priority needs and mobilizing decision-makers to take action for concrete change. We understand that people are tired of talking when no action results. Action planning with key decision-makers around the table will take needs to action and concrete change in the community.
Who do we want and need to hear from?
The 2SLGBTQIA+ community is very broad and there are some specific groups within the community we need to hear from and they include:
Seniors
Youth

Trans

/Non-Binary people
2Spirit/Indigi-

queer

identified
New Canadians, multi-cultural, visibly diverse community members
People with disabilities
People struggling with poverty, low income, experiencing homelessness
People experiencing challenges with mental health/addiction
How you help get the word out!
Qmunity Windsor-Essex Needs Assessment survey is ready to launch! Next comes the CRUCIAL step of getting all segments of the 2SLGBTQIA+ community to take part. Why? For the simple reason that in order to demonstrate the full range of needs in the community, we require participation from the full range of community members.
One key challenge is that surveys tend to over-represent some groups of people and under-represent others. Unfortunately, the under-represented are often those with greater challenges and greater needs – in other words, the people we need to hear from most. One way to try and overcome this is to put heavy emphasis on recruitment through a wide variety of means.
Many members of the 2SLGBTQIA+ community will be reached through general advertising. Those who are not reached by general advertising or those who may face barriers to taking part or who may be distrustful of surveys, need a different approach.
The model below shows five different ways to increase outreach and participation. The first is to involve members of the community in planning. The remaining four are:

This involves passively informing the community about the survey through phone calls, word of mouth, emails, and through social media channels.

This includes reaching out through existing contacts, personal or professional, individuals or organizations, and asking them to spread the word and, where possible, to facilitate participation for those who face challenges.

If you are able to attend or host events that include members of the community, this is also a great way to spread the word of the Qmunity Needs Assessment and challenge attendees to complete the survey and get the word out!

Finally, and most particularly for harder to reach groups, personal appeals to individuals you know to take part can also help. Remember, if those individuals are connected to other hard to reach groups and are willing to share the word this can also be a good way to increase participation in the survey!
Take part in a community consultation or focus group
Spread the word about the needs assessment and encourage others to take part by completing the survey. We put together some promotional materials for you below.
Join our mailing list. Be informed of upcoming events and activities for the Windsor-Essex Qmunity Needs Assessment.
Tell us how you think you can help!
Here are some helpful materials you can use to help us promote the Qmunity Windsor-Essex Needs Assessment. Use the download button below to download the package to your computer. The download is in ZIP format, which can be opened on Mac or Windows simply by double-clicking the file.
5" x 11" Promotional Flyer (JPEG / PDF)
4" x 6" Promotional Postcard (JPEG / PDF)
Qmunity Windsor-Essex Needs Assessment Logo (JPEG / PDF / EPS)
Instagram Single Image Promo (JPEG / PDF)
Facebook Header (JPEG / PDF)
Promotional Social Media Text (PDF)
Promotional Email Text (PDF)
As thanks for your participation, the first 200 participants who complete the survey will receive a $5.00 Tim Horton's Gift Card.
In addition, everyone who completes the survey will eligible to enter a draw for a chance to win one of our gift card prizes. Total gift card prizes are valued at $2,200.00. Winners will be chosen at random after the survey closes and will be contacted by a member of the Windsor-Essex Pride Fest to claim their prize.
Here are the prizes that you have a chance to win one of the following prizes:
(1) Apple AirPods with Carry Case (Value $200)
(1) $50.00 – Dr. Disc Gift Certificate
(2) $50.00 – Petro Canada Gift Cards
(4) $50.00 – Zehrs/Presidents Choice Gift Cards
(2) $50.00 – Mezzo Ristorante Gift Cards
(10) $25.00 – Amazon Gift Cards
(10) $25.00 – Metro/Food Basics Gift Cards
(10) $25.00 – Staples Gift Cards
(10) $25.00 – Ultimate Dining Gift Cards
(10) $25.00 – Dollarama Gift Cards
(10) $10.00 – McDonald's Gift Cards
(10) $10.00 – Uber Gift Cards
(10) $10.00 – Dollarama Gift Cards
The Windsor-Essex Pride Fest and this project are funded by