 CREATED/COMPILED BY WALTER T. CASSIDY
If you have any materials you would like to have preserved or if you find any information that is not included in this and would like to make a request for an update or for something to be changed, please contact Walter Cassidy at
[email protected]
.
ABOUT THE 2SLGBTQ TIMELINE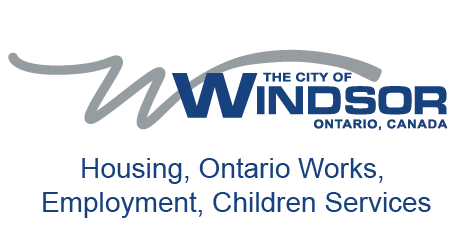 The key to this timeline is basic. It is about local visibility of the 2SLGBTQAI community. Unfortunately, much of that visibility has been erased for various reasons. Some of those reasons are as simple as the suppression of our identities, the lack of interest in who we are, overall hate or ignorance, and our own lack of seeing the importance of our stories and struggles. When creating this timeline, especially before the 1960s, some of the examples were difficult to prove if they "really" were queer/trans/gender non-conforming references. I included them anyways because one could argue either way if the experience was trans/queer/gender non-conforming.
About the Development of this Timeline
I tried as much to include basic firsts for this area. As well as important events that affected the community or events that could or should be explored more in the future. I am not the first person to create a local 2SLGBT timeline; thanks to the help of Beth Lyster and Barry Adam who allowed me to include their work and expand it. I am the first to expand the timeline before 1971.
This document is incomplete and lacks some diversity of experiences. I hope more people and documents will come forward because of this timeline. I consider this a living document that may have mistakes or omissions that may need to be changed or updated. Many of our local queer and trans newsletters are lost and still need to be rediscovered. I have not uncovered one complete set of the five different newsletters I have come across. If you have any materials you would like to have preserved or if you find any information that is not included in this and would like to make a request for an update or something changed, please contact me at [email protected]. It should also be noted that I used the language of the time that the event happened in, and I included names that were given in documents or newspaper reporting.
Thanks to Denis Marier to do the pre-colonial section. I would like to thank the tireless work of the WERA (Windsor/Essex Rainbow Alliance) group who helped make this project possible especially, Stephanie Pest for her advice on making sure the timeline is more trans inclusive. I would also like to thank the cities; Arts, Culture & Heritage Fund (ACHF) for their financial support and Janet Kelly's knowledge and support that helped me make that grant happen.
The University of Windsor has established a 2SLGBTQAI archive through WERA. So much of our history has been thrown out or lost. If you have any pictures, letters, posters, t-shirts, matchbooks, articles, magazines, newsletters, anything that has a connection to the 2SLGBTQAI community locally please contact [email protected] to get this material preserved for future generations.
TWO SPIRIT AND TURTLE ISLAND BY DENIS MARIER.
There is much discussion on the history and terminology of the term "Two-Spirit," which was adopted in the early 1990's as an agreed upon term to help link the concept of a non-binary gender with various Indigenous understandings and teachings that differed from nation to nation across Turtle Island. What can be identified with clarity is that its roots lie in a non-heteronormative-inflicted concept of a fluid sexuality that has as much to do with societal position as it does with gender and sexual identity. Broadly speaking, the Two Spirit were considered a third sex or gender, simply for the fact that they possessed both a male and female aspect or spirit in one body. Since they were able to represent a balanced nature of both male and female, they were revered as peacekeepers, teachers, herbalists, artists, mediators, child minders, healers, knowledge keepers, interpreters, and spiritual leaders of their clans and nations. Some nations had up to four or five "genders." The term Two Spirit can also be considered to be a place-holder term as we regain our languages and the words for what "gender" is interpreted as within a European-colonized construct that seeks a definition.
In the Indigenous understandings of gender and sexuality, same-sex unions were not viewed as deviant, nor was dressing in a manner that could be considered transgender. Gender identity was viewed more within a social structure which considered the individual's role within the community and which particular gifts, talents, and resources that individual could bring to the common good. Two Spirit transcended gender and sexuality in that some Two Spirits could be in possession of a Warrior spirit and a Grandmother spirit, or even possessing the spirits of two clans in one body, such as Bear Clan and Deer Clan, with all of the qualities, medicines, and attributes each afforded. They had the ability to move between their spirits fluidly as circumstances required and without having to choose to remain static in one identification. It is also important to note that although 2S has been added to the LGBTQ+ nomenclature, one does not necessarily need to identify as such along sexual or gender identifications to consider themselves Two Spirit, and not all IndigiQueer people identify themselves as 2S.
With the advance of colonization came the disturbing awareness of the difference between the European heteronormative understanding of a binary gender identity and classification of societal roles that was vastly different from their own. Residential schools further imposed a European heteropatriarchal system of binary classification enforcing strict divisions between boys and girls through dress and hairstyles, as well as physically separating them into boys' or girls' dormitories. Thus, binary classification became even more entrenched further erasing any fluidity amongst genders. So, the Indigenous peoples of Turtle Island quickly hid what they considered to be a treasure to their culture, as they did with many other of their sacred items.
Because much of the knowledge and knowledge-keepers were forced into hiding, we are still in an evolving process of seeking their trust in coaxing them out of secrecy. There needs to be a lot of trust-building that still needs to happen and this "history" will continue to evolve as more Indigenous voices are added to it. It is through the oral histories currently being offered by Indigenous Elders who remember, that the Two Spirit roles in society are becoming known and celebrated again.
This has mostly been an exploration by myself, a non-identified white ally who identifies with the traces of their Indigenous DNA but will not or cannot identify as Indigenous out of an abundance of respect for the cultural appropriation the Native peoples of Turtle Island have suffered. I have been fortunate to have been welcomed into various Indigenous circles and ceremonies as one who carries epigenetic memories and who is doing the work that needs to be done as a bridgebuilder, healer, and peacemaker. I would also like to thank several local Two Spirit friends and chosen family members for their input and editing feedback with this written history.
This timeline was supported partially by the previous work by Beth Lyster work done for OPIRG (Ontario Public Interest Research Group) Windsor and Dr. Barry Adam (Out and Ageing: Our Stories: Edited by Barbara Zarzosa)
REFERENCES
Voice of the Fugitive: 1851 Sandwich-Windsor by Henry and Mary Bibb
Windsor Star (And various other names by same publishing company)
Windsor Gay Unity Newsletter 1974-1979
International Justice Monthly: 1981-82 Publisher Jack Summer Editor: E. Leon Bushey
Outspoken: 1991 to 2005 Original Staff: Barry Adam, Gilles Brunet, Wayne Tennant Editor: Kenn Stanton
Out and Aging: Our Stories. Edited by Barbara Zarzosa:2010: Windsor Pride Community
The Body Politic 1971-1987. Toronto: Pink Triangle Press
Information was also collected by firsthand interviews or conversations with: Jim Monk, Beth Lyster, Robin Sherman, Julie Fraser, Dr. Kael Sharman, Neil Mens, Paulette Kupnicki. Peter Sonnberg Schmidt, Dennis A. Dowker, Joe McParland, Dani Bobb, Julie Leadbetter, Harold Desmarais, Barry Adam, Nancy Campana, Michael Venus, Amanda Gellman, Mary Lou Gelissen, and Steven Lough.
Windsor-Essex Pride Fest held at Lanpeary Park with reduced capacity and restrictions due to the COVID-19 pandemic (Wendi Nicholson, President)
https://www.wepridefest.com/newsroom/we-pride-fest-moves-annual-pride-weekend-to-september/
https://www.wepridefest.com/newsroom/windsor-essex-pride-festival-kicks-off-with-wednesday-flag-raising/
Windsor-Essex Pride Fest announces that their QConnect Plus Group will continue after initial funding has been completed.
https://www.wepridefest.com/newsroom/program-for-lgbt-seniors-to-continue-in-windsor-essex/
Windsor Pride Community (Colm Holmes, President)
We Trans is vandalized multiple times with windows smashed as well as hate speech; racist, homophobic slurs and swastikas are spray painted on the storefront.
Windsor/Essex Transgender Support Centre changes name to Trans Wellness Ontario.
The AIDS Committee of Windsor changes name to Pozitive Pathways.
Damien Crowe a transgender student at Assumption College starts a petition to have his chosen name on his diploma.
The Town of Essex raises the Rainbow Flag for the first time.
Bill C-6 to ban Conversion therapy. 263-63 Windsor-Tecumseh Irek Kusmierczyk, Windsor West MP Brian Masse supported. Essex MP Chris Lewis, Chatham-Kent- Leamington MP Dave Epp voted against.
Hate Has No Home Here Movement starts in Essex County by Laura Hasulo. The concept started with signs on people's lawns.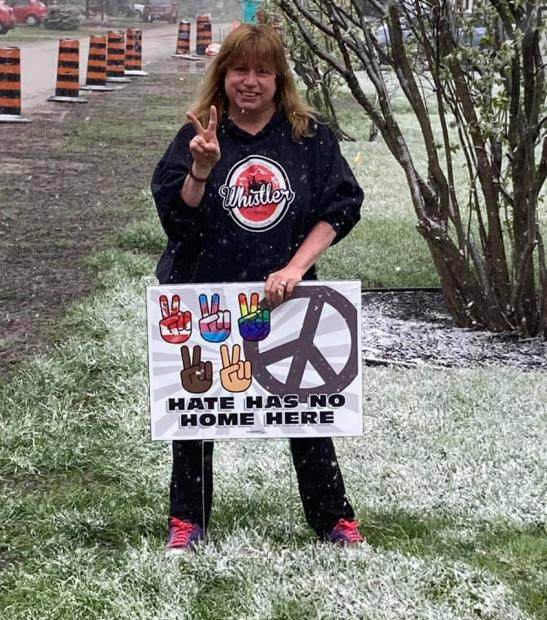 2021
Windsor-Essex Pride Fest held virtually due to the COVID-19 pandemic (Wendi Nicholson, President)
https://www.wepridefest.com/newsroom/the-windsor-local-we-pride-fest-is-more-than-a-festival/
https://www.wepridefest.com/newsroom/windsor-essex-pride-fest-kicks-off-virtual-pride-celebrations/
https://www.wepridefest.com/newsroom/windsor-essex-pride-fest-flag-raised-virtual-events-included-for-2020/
Ontario Trillium Foundation awards a $714,800 grant to a collaborative partnership between Windsor Pride Community, Windsor-Essex Pride Fest and Family Services Windsor Essex to create Qlink Windsor-Essex. Qlink Windsor-Essex will provide free programs and services for young LGBTQ2S+ people in Windsor and Essex County over a three year term.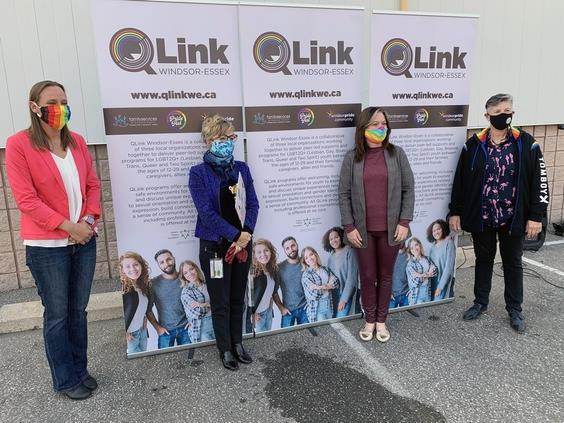 https://www.wepridefest.com/newsroom/groups-join-forces-to-launch-new-programs-for-lgbtq2s-community/
https://www.wepridefest.com/newsroom/new-programs-launched-to-support-lgbtq2s-youth/
Windsor Pride Community (Colm Holmes, Board President; Jason Marin, Executive Director)
Local Drag queens: Juice Boxx and Boa compete on Canada's First Drag Race TV show.
Unifor Local 444 LGBTQ Committee Founded in April by Stephanie Pest and Greyson Labella.
Transgender Pride and Rainbow Pride Flag is flown at Children's Aid Society.
Windsor/Essex Rainbow Alliance (WERA) is founded in June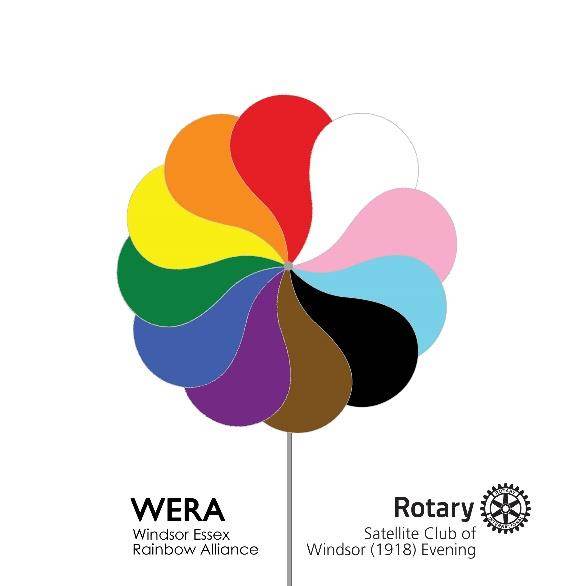 2020
On June 19, Bill C-16 was passed by the federal government and received Royal Assent. The bill updated the Canadian Human Rights Act and the Criminal Code to include the terms "gender identity" and "gender expression." The legislation also makes it illegal to discriminate on the basis of gender identity or expression.
It also extends hate speech laws to include the two terms, and makes it a hate crime to target someone for being transgender. The bill also amends the sentencing principles section of the code so that a person's gender identity or expression can be considered an aggravating circumstance by a judge during sentencing.
Windsor-Essex Pride Fest held at Riverfront Festival Plaza (David Lenz, President)
https://www.wepridefest.com/newsroom/pride-parade-floats-through-downtown-windsor/.
Windsor-Essex Pride Fest celebrates 25 years of the Pride Festival being held in Windsor, Ontario.
https://www.wepridefest.com/newsroom/windsor-essex-pride-fest-marks-25-years/.
Windsor-Essex Pride Fest is awarded $450,000 grant over three years from the Ontario Trillium Foundation to create the QConnect project to provide programs and services to the LGBTQ2S+ community in Windsor-Essex. Aspects included social work, program facilitation and materials, website, program promotion, etc.
https://www.wepridefest.com/newsroom/windsor-pride-fest-receives-cash-boost/.
Windsor Pride Community (Colm Holmes, Board President; Bob Williams, Executive Director)
The Run for Rocky Legacy Project is founded.
W.E. Trans Support is federally incorporated and becomes the first standalone transgender support centre in Ontario. Founded by Jayce Carver.
2016-2017:422 Pelissier St.
2017-2018: 1106 Ouellette Ave.
2018: 536 Pelissier St.
2018-2019: 111 Wyandotte St. West
2019-2021: 1435 Tecumseh Rd. East
Windsor Pride Community Education and Resource Centre gets evicted by the city to create a parking lot.
WECDSB trustees vote to not allow the Rainbow Flag to be flown outside school buildings (unanimously passes). School board Chair Barb Holland stated, "The reason we felt only the Canadian flag should fly outside schools is we believe that is the single most unifying symbol for everyone."
WECDSB student conference entitled WeShine is first held at Holy Names High School.
Transgender Day of Remembrance was first observed in Windsor. It took place at Emmanuel United Church. There was a reception and candlelight vigil.
Windsor hosts the International GSA Conference "Outshine."
Ontario passes Bill 74 to officially mark Trans Day of Remembrance on November 20 and requires the legislature to hold a minute of silence each year in honour of trans people who have died as a result of anti-trans violence.
2017
Windsor-Essex Pride Fest held at Riverfront Festival Plaza (David Lenz, President)
Windsor Pride Community (Colm Holmes, Board President; Bob Williams, Executive Director)
All GECDSB High schools fly the Rainbow Pride Flag for a week during Pride Month.
Gender Identity and Gender Expression to be included in the Canadian Human Rights Code Bill C -16 passes 248-40. Windsor-Tecumseh MP Cheryl Hardcastle, Essex MP Tracey Ramsey, Windsor West MP Brian Masse, supported it, Chatham-Kent Leamington MP Dave Van Kesteren voted against.
2SLGBTQ Vigil: About 500 people gathered at Maiden Lane to honour the victims of the Orlando shootings in Florida. (Organized by Windsor-Essex Pride Fest, David Lenz and Joe McParland)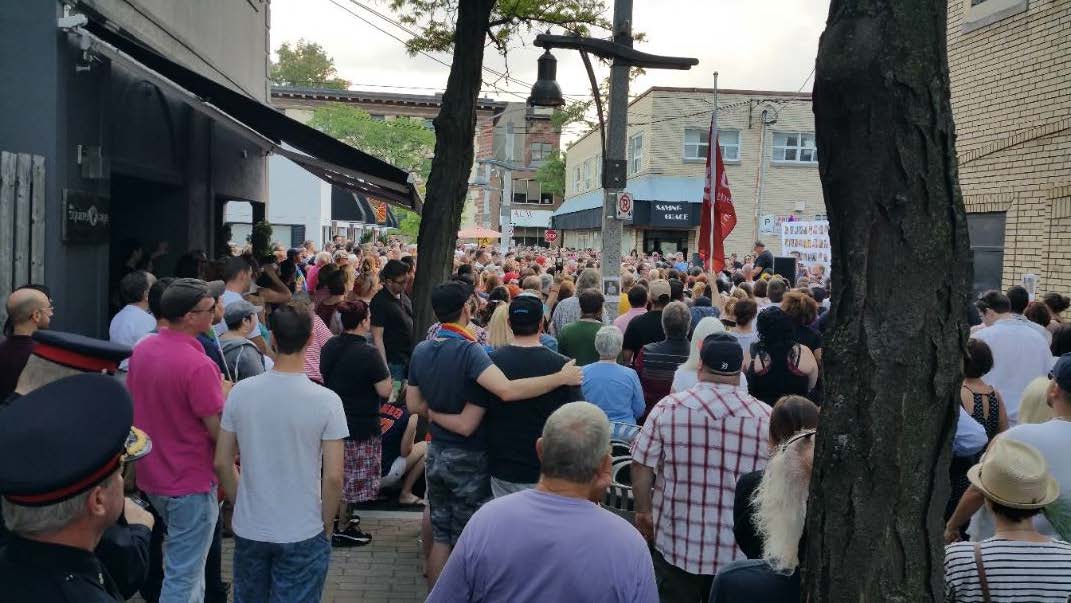 LaSalle becomes the first municipality in Essex County to fly the Rainbow Flag.
St. Anne's and Villanova Secondary schools GSAs receive the Premier's Award for creating a "safe and inclusive environments."
2016
Windsor-Essex Pride Fest held at Riverfront Festival Plaza (David Lenz, President)
Windsor Pride Community (Colm Holmes, Board President; Bob Williams, Executive Director)
Community leader George Hannah passes and Windsor-Essex Pride Fest establishes the George Hannah Red Memorial Scholarship at St. Clair College. The scholarship is awarded annually recognizing those individuals who promote equality and diversity and continuing education.
https://www.wepridefest.com/newsroom/new-scholarship-established-to-memorialize-windsor-lgbt-leader/
Five/Fourteen is founded by Lucas Simon Medina and Chad A. Craig. It is the first of its kind in Canada. It is the only foster agency dedicated solely to providing services and support to the 2SLGBTQ foster care community.
Two-Spirit Group of Can-Am Friendship Centre is founded by Theresa Sims.
Casey Plett wins Lambda Literary Award for her short-story collection entitled "A Safe Girl to Love."
Walkerville Collegiate Institute become the first Greater Essex County District School Board school to fly the Rainbow Flag during Pride Month.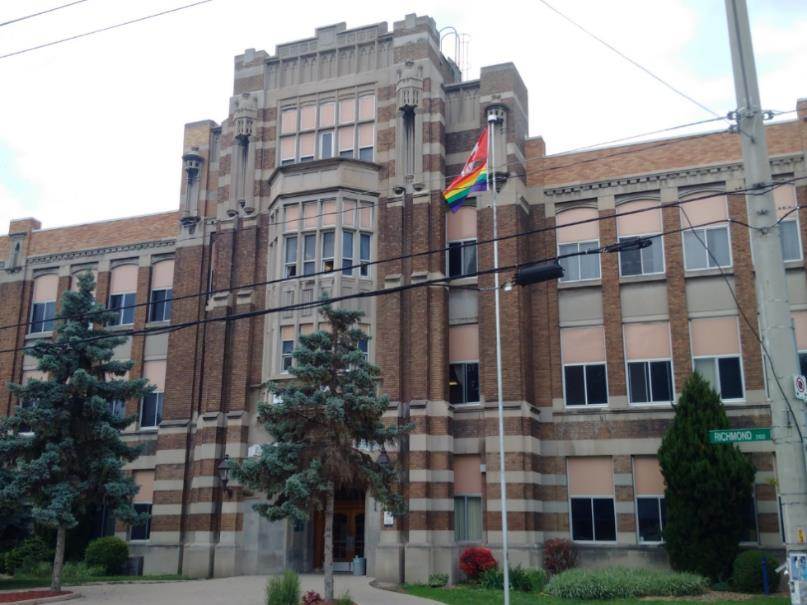 2015
Windsor-Essex Pride Fest held at Riverfront Festival Plaza (David Lenz, President)
Windsor Pride Community (Colm Holmes, Board President; Bob Williams, Executive Director)
Windsor-Essex Pride Fest together with Tourism Windsor Essex Pelee Island and Caesars Windsor hosted the Travel Gay Canada Conference in Windsor, Ontario at Caesars Windsor. The conference was held October 23-25, 2021 and attracted 120 delegates from across Canada in relation to the LGBT travel market.
https://blackburnnews.com/windsor/windsor-news/2014/11/01/boosting-gay-tourism/
https://blackburnnews.com/chatham/chatham-news/2014/08/17/caesars-to-host-lgbt-travel-conference/
The Healthy Canadians Should be Able to Donate Petition (regardless of their HIV status) went around Canada and tabled to the House of Commons in May by MP Brian Masse. Created by the Campana Family in honour of Rocky Campana.
International Transgender Day of Visibility first observed in Windsor.
September 28 2014 St. Clair College's GSA is founded.
2014
Windsor-Essex Pride Fest held at Riverfront Festival Plaza (David Lenz, President)
Windsor Pride Community (Colm Holmes, President: Bob Williams, Executive Director)
Trans*Spectrum is founded by Maaya Hitomi. First meetings started at the University then went to the Welcome Centre Shelter for Women, 263 Bridge Ave.
First locally made Film on a Trans experience entitled, "Transbeing" by Gabrielle Pescador and Juan Javier Pescador.
Run for Rocky is founded in memory of Rocky Campana. It is founded by the Campana family. The Run/Walk is in support of funding for local Student GSA's. The last run is in 2017.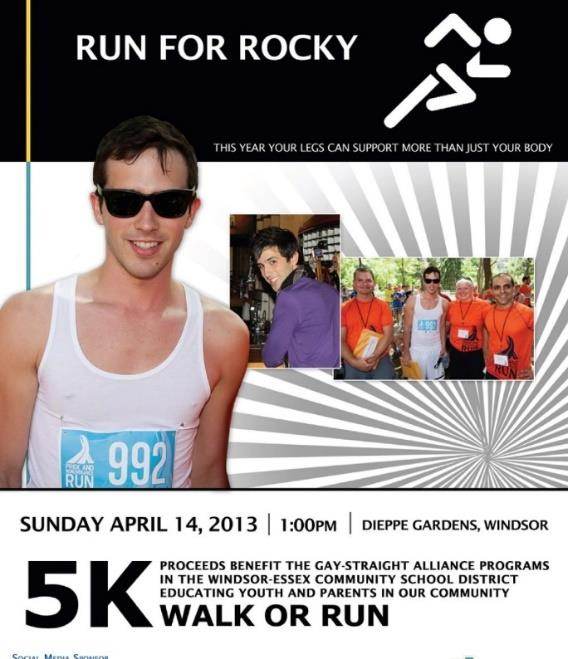 2013
Windsor-Essex Pride Fest held at Riverfront Festival Plaza (David Lenz, President)
Windsor Pride Community (Lawrence Lavender, President; Bob Williams, Executive Director)
Windsor-Essex Pride Fest awarded an Ontario Trillium Grant in the amount of $210,000 for hiring staff to assist the festival with fundraising, surveying, enhancements to improve the festival.
https://windsorstar.com/news/windsor-pride-fest-gets-200k-grant-for-bigger-better-event
Windsor-Essex Pride Fest partners with Travel Gay Canada and Tourism Windsor Essex & Pelee Island on LGBT Tourism destination initiatives and develops an LGBT Travel Market Guide & Development Toolkit to be used by businesses to learn fundamentals of the LGBT market.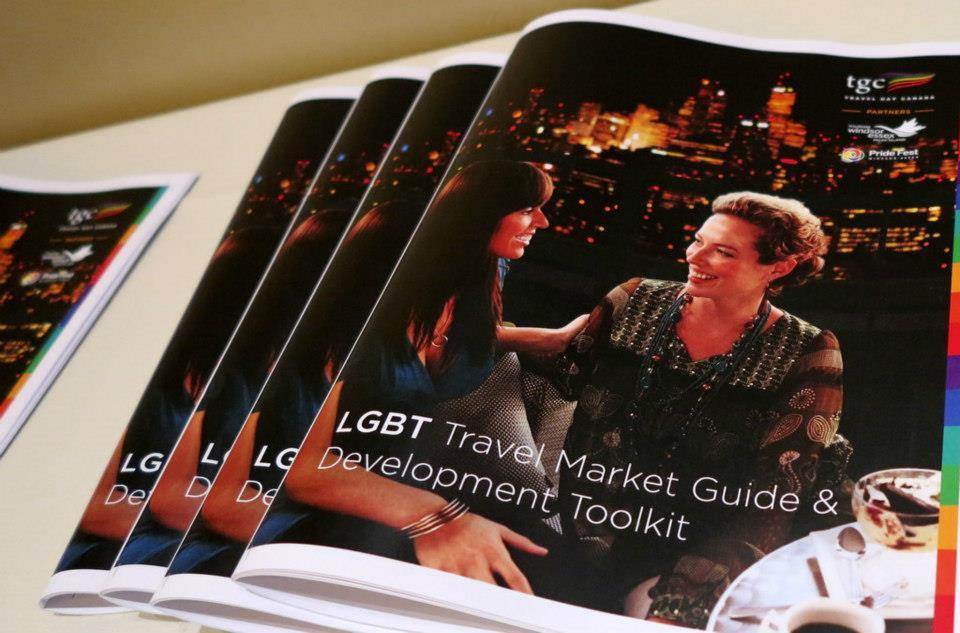 Dr. Kael Sharman becomes the first Trans man to formally ask the Ontario College of Teachers (OCT) to have his name and gender marker changed.
Dr. Kael Sharman becomes the first Trans male Educator to formally come out as Trans in a Greater Essex District School Board.
First Windsor Essex Catholic School Board GSA is started at Villanova. Founded by Dallas Mahaney.
Gender Identity and Gender expression to be included in the Ontario Human Rights code Bill 33 passes 60-26 Essex MPP Taras Natyshak, Windsor West MPP Teresa Piruzza, Windsor-Tecumseh MPP Dwight Duncan, supported it. Chatham-Kent-Essex Rick Nicholls voted against.
2012
Windsor Pride Festival held at Riverfront Festival Plaza (David Lenz, Festival Chair)
Windsor Pride Community (Lawrence Lavender, President; Chris Rabideau, Executive Director)
Windsor Pride Community divests itself from the festival aspects from its programming allowing Windsor-Essex Pride Fest to incorporate as a new registered non-profit organization running the Windsor Pride Festival.
Windsor-Essex Pride Fest Inc. is incorporated in November 2011 (David Lenz, President)
The first Student high school GSA Conference by the Greater Essex District School Board in Windsor/Essex is established.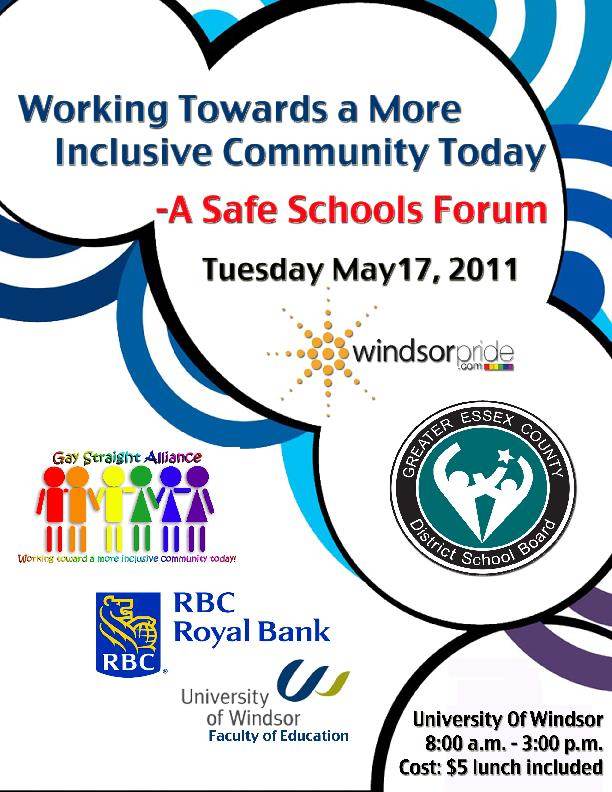 Two Spirit Group of Windsor is founded by Conni Ma'iingan. In 2015 the name was changed to Two Spirit Circle of Windsor. Name changed again in 2021 to 2SLGBGTQi+ Circle of Windsor-Essex.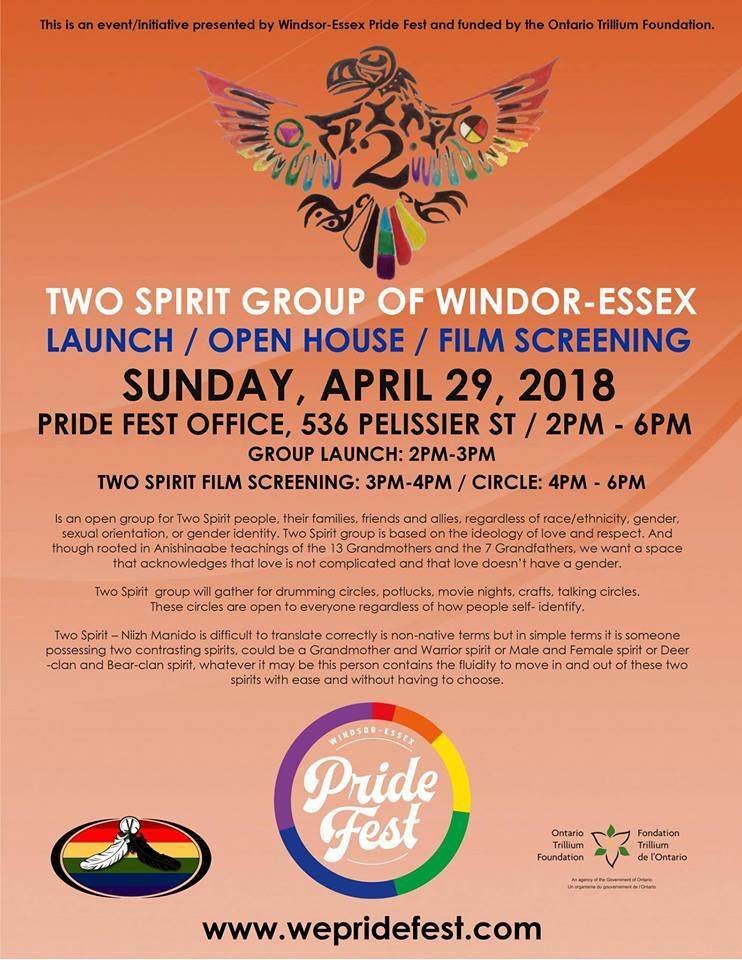 2011
Windsor Pride Festival held at Riverfront Festival Plaza (David Lenz, Festival Chair)
Windsor Pride Community (Marc Dubois, President; Neil Mens, Executive Director)
The first time Windsor Pride Community includes a Transgender social event as part of Pride Festival Week.
First Trans Group in Windsor: T Party is founded by Lorraine Sayell.
Chris Rabideau is gay-bashed.
https://www.cbc.ca/news/canada/windsor/beaten-for-being-gay-windsor-director-says-1.888557.
First Gay Straight Alliance (GSA) high school dance at Walkerville Collegiate High School.
2010
Windsor Pride Festival held at Riverfront Festival Plaza (Jason Patterson, Festival Chair)
Lesbian and Gay Youth and Family Resource Support Group changes name to SAFE (Service Alliance for Equality)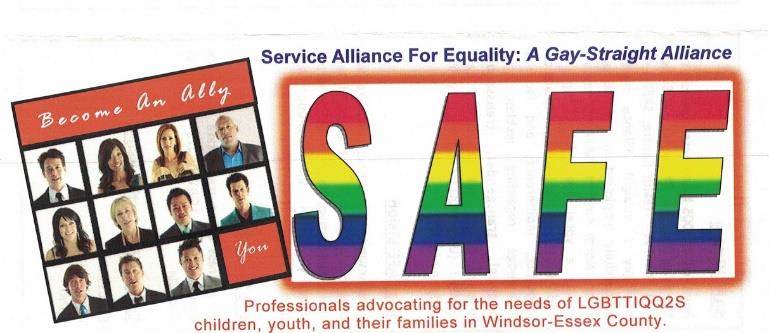 Windsor Pride Community Education and Research Centre Street is founded and located at 422 Pelissier Street in Downtown Windsor. (Board President, Marc Dubois; Executive Director, Neil Mens)
Gay, Lesbian and Bisexual Youth's Experiences of School Climate by Sandra Bortolin, Barry D. Adam, Catherine Brooke, Jaime McCauley, Department of Sociology and Anthropology, University of Windsor.
Gay-Straight Alliance (GSA) in Southwestern Ontario is created at Walkerville Collegiate Institute. Founded by Joey Wright and teachers Amy Tesolin and Walter Cassidy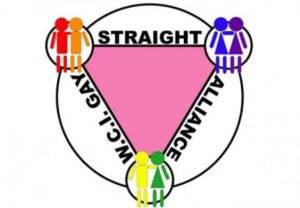 SAFE committee puts on LGBT Seminar for Educators entitled: SAFE at School with community partners.
Ontario Secondary School Teacher's Federation (OSSTF) Workshop: From Pain to Pride. One of the First LGBTQ union education workshops in the city. It took place at Walkerville High school. Organized by Debbie Jamieson.
2009
Windsor Pride Festival held at Riverfront Festival Plaza (Jason Patterson, Festival Chair)
Windsor Pride Community (Marc Dubois, President)
50+ Proud and LGBT Diversity Training, began as a social group for elders and developed into a two-pronged approach to deal with issues related to LGBTQ aging.
Creation of an Educational GSA called GSA for Staff through OSSTF. Founder Walter Cassidy, Amy Tesolin and Debbie Jamieson.
"How Well Are Our Schools Educating Youth for a World of HIV Risk?" University of Windsor. Presented by Dr. Barry Adam.
Breaking Down the Wall of Silence by Carlos Rivera is published.
ARQ2 Diversity Sensitivity Training at Children's Aid Society.
2008
Windsor Pride Festival held at Riverfront Festival Plaza (Jason Patterson, Festival Chair)
Windsor Pride Community (Marc Dubois, President)
Carlos Rivera, local gay man, is murdered.
https://www.cbc.ca/news/canada/london/man-who-killed-elderly-couple-and-bartender-has-appeal-rejected-by-supreme-court-1.5129542
First workshop for Educators: An Introduction to LGBTQ Youth at OSSTF District Office. Presenter: Scott Mattson and Rev. Martha Daniels and youth from Young and Proud group
First attempt to start a GSA (Gay-Straight Alliance) in a public school: Student Vuk Draskovic-Postic supported by Scott Mattson and Rev. Martha Daniels. It is denied by the Greater Essex District School Board.
2007
Windsor Pride Festival held in Charles Clark Square (Dani Bobb, Festival Chair)
Windsor Pride Community is incorporated as a registered non-profit organization. (Joe McParland, Board President)
First locally written and produced gay themed play: "Whatever it Was" by Christopher Lawrence-Menard. Produced at Mackenzie Hall. Produced by Korda and Purple Theatre.
Salvagio Vonatti is shot in the head outside Gigi's gay bar in Detroit.
https://pridesource.com/article/windsor-man-shot-outside-detroit-gay-bar/
Rainbow Award renamed the Salvagio Vonatti Rainbow Award (University of Windsor).
First Needs Assessment for LGBTQ conducted by Teen Health Centre and University of Windsor Practicum Student: Stephanie Gee. Faculty Supervisor: Dr. Charlene Senn. Site Supervisor: Jenny Stranges
First GSA in Windsor/Essex County. École secondaire catholique l'Essor formed their first GSA, or l'Alliance Gaie-Hétéro (AGH) The student who started it was Bertrand Fournier and the teacher sponsor was Marc Dubois.
2006
Windsor Pride is reorganized with new members from the community.
Windsor Pride Festival is held at Charles Clark Square (Robert Vitella, Chair)
Lesbian and Gay Youth and Family Resource Support Group founded by Kim Abbott-Martin. A joint support from Windsor-Essex Children's Aid Society and The Teen Health Centre.
Same-Sex Marriage bill C-38 passes 164-137: Windsor-Tecumseh MP Joe Co-martin, Windsor-West MP Brian Masse, Kent-Essex MP Jerry Pickard support it. Essex MP Jeff Watson voted against it calling it "This is a policy decision, not a human rights issue."
2005
Pride Festival is cancelled due to lack of funding and community involvement.
Julie Leadbetter chaired a town hall meeting after Pride was canceled. The current Board structure grew out of those meetings.
2004
Pride Festival held
Val Pearson & Chris Cecile (Pride Festival Co-Chairs)
Hedy Halpern/Colleen Rogers & Alan Sears (Man & Woman of the Year
Harpern vs. Canada. Hedy Halpern and Colleen Halpern successfully sue the Canadian government with 7 other couples to recognizes same-sex marriage.
First MCC Legal Same-Sex marriage: S.C and J.B.
2003
Pride Festival held [Charles Clark Square]
Cory Albert & Chris Cecile (Pride Festival Co-Chairs)
Cory Albert & Jim Davies (Man & Woman of the Year)
The Women's Out Group founded. Provides a network and educational needs of all women who seek support, information, and direction about sexual and reproductive issues.
2002
Pride Festival held [Centennial Park]
Festival theme: Unified Diversity
Cory Albert & Paulette Kupnicki (Pride Festival Co-Chairs)
Paulette Kupnicki & Chris L. Cecile (Man & Woman of the Year)
Founding of the Korda Theatre: Which has presented the most LGBTQ shows in Windsor. At least one show each year.
Rainbow Award (University of Windsor) was established by Salvagio Vonatti, Dani Bobb and Marc Dubois.
2001
Pride Festival held [Ojibway Park]
Paulette Kupnicki & Kirsten Schmidt (Pride Festival Co-Chairs)
Kirsten Schmidt & Brent Kulba (Man & Woman of the Year)
CAW LGBT Caucus is founded
First time the City of Windsor (unanimously voted) raises the pride flag at city hall.
High school students attend first AIDS Awareness Week Youth Conference.
2000
Pride Festival Held [Windsor Stadium]
Festival theme: Forever Growing Stronger
Liz Chamberlain & Evan LeBlanc (Man & Woman of the Year)
The first ACW's AIDS Walk Appreciation Celebration Gala at Windsor Casino. Celebration Gala continued till 2008.
1999
Pride Festival held
Windsor Pride organizes and succeeds the LGCC
(QAMP) Queer Alliance Movement for Proactivism is founded at the University of Windsor. Lasted for only a year.
Vigil at the University of Windsor to mourn the death of Matthew Shepard
1998
Pride Festival held [Club Limelight & The Happy Tap]
Robin Chamberlain & Reverend Evan LeBlanc (Man & Woman of the Year)
Legacy Club is founded: a women's group "to promote leisure time activities for lesbians that nurture body, mind, and spirit."
Vision Statement: A

lesbian

club in which women show respect for one another, share gifts, talents, experiences, and responsibilities through open and honest communication to promote leisure and recreational activities and opportunities for personal growth in a safe, comfortable and supportive environment.
AIDS walk first time collecting $100 000 in donations and sponsorship.
1997
Pride Festival held [Club Limelight & The Happy Tap]
Ligaya Byrch & David Lyons (Man & Woman of the Year)
Sexual Orientation to be included in the Canadian Human Rights Code. Bill C-33 153-76 Essex-Kent: Jerry Pickard, Essex-Windsor: Susan Whelan, Windsor-West: Herb Gray, Windsor-St. Clair: Shaughnessy Cohen: Chatham-Kent-Essex supported it
Two-Spirited Peoples Group is Founded.
Protest in front of MP Herb Gray's office for funding cuts to HIV/AIDS research. University of Windsor Staff and members of ACW attended the protest
1996
Pride Festival held [Club Limelight & The Happy Tap]
Jacquie Gahagan & John Shellhorn (Man & Woman of the Year)
The Two Spirit Circle is founded.
October 30; House of Commons motion to support the recognition of same-sex spouses. Defeated. 124 to 52. Windsor-St Clair MP Shaughnessy Cohen supported it. Essex-Kent MP Jerry Pickard. Against. Windsor West MP Herb Gray and Essex-Windsor MP Susan Whelan didn't vote.
Educational Task Force Against Homophobia (ETFAH) is founded by David Lyons. The purpose of the group was to include LGB representation in the local curriculum. It lasted for about a year.
Sexual orientation was included in the Canadian Charter of Rights and Freedoms.
Ontario becomes the first province in Canada to allow same-sex couples to adopt.
1995
Pride Festival held [Club Limelight & The Happy Tap]
Festival theme: Accept Us. Respect Us. Acceptez-nous. Respectez-nous!
Caroline & Steve Lough (Man & Women of the Year)
WIGGLE is founded. Wiggle is an annual Wig Festival. The festival was created as a fundraiser for the Arts Council of Windsor. Performed at Masonic Temple. Continues today in Montreal.
First federally funded (Health and Welfare Canada) LGBTQ Youth group in Canada: One in Ten.
The Windsor Lesbian, Gay and Bisexual human rights action group is created after the defeat of Bill 167 which would have recognized same-sex relationships under the law. 68-59. Windsor-Riverside MPP Dave Cooke, Windsor-Sandwich MPP George Dadamo and Windsor-Walkerville MPP Wayne Lessard supported it. Essex MPP Bruce Crozier and MPP Essex Pat Hayes voted against.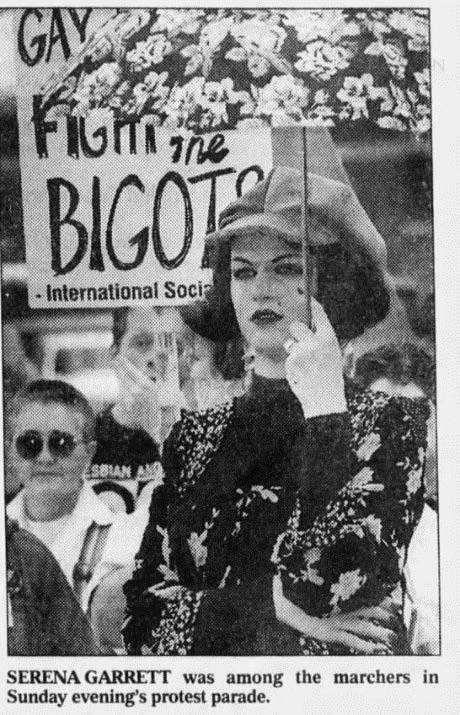 First meeting with Police and reps from the queer community. At attendance was Barry Adam, Caroline Carnerie and Beth Lyster. Police: Chief Adkin, John Burrows
Provincial Day of Action protest after the defeat of Bill 176. Over 70 people participated the protest downtown.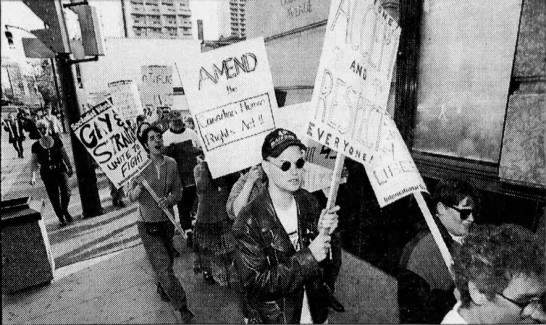 3rd LGB Pride Day - July 10
Theme: "Accept Us. Respect Us! Acceptez Nous. Respectez Nous!"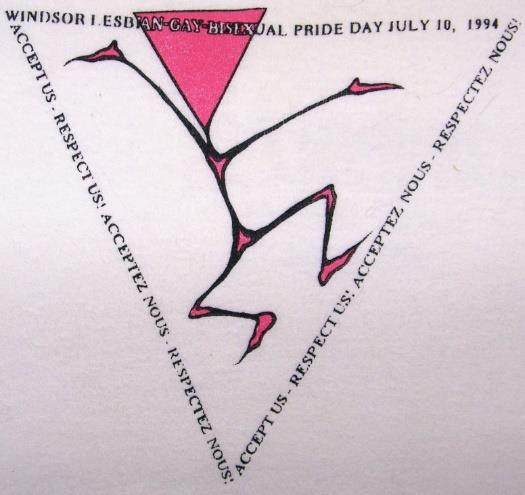 1994
Founding of Lesbian/Gay Community Council. Its mandate is to: initiate and coordinate activities and provide mutual support among area organizations, respond to concerns of the gay and lesbian community through its member organizations, provide representation for the local gay and lesbian community to the press and to other non-gay organizations, and provide representation to the Coalition for Lesbian and Gay Rights in Ontario. The member organizations are AIDS Committee of Windsor, Gay phone line group, Lesbian and Gay Pride Committee, Gay/Lesbian Drop-in Group, Metropolitan Community Church, One in Ten, Out on Campus, Queer Radio, and Women's phone line group.
Pride Festival held [JB's & The Happy Tap]
Theme: Pride Starts Here
Debra Dumochelle and Barry Adam (Man & Women of the Year)
2nd LG Pride Day - July 11 Theme: "Pride Starts Here (arrow to the heart). La Fierte Commence Ici."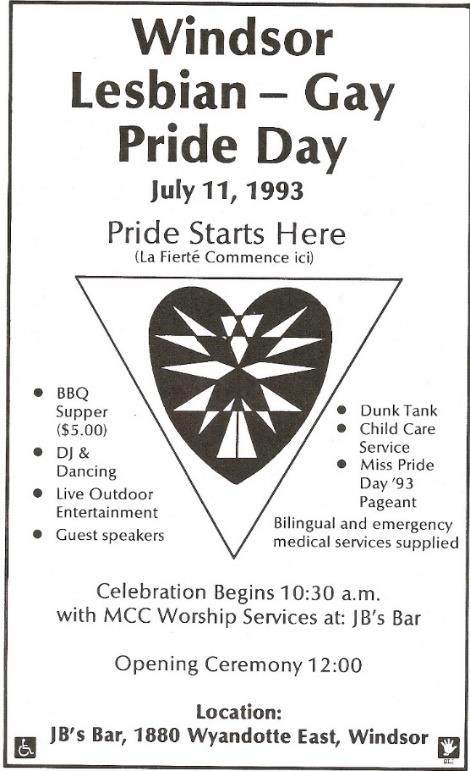 1993
Windsor Pride is founded and hold's it first festival [JB's & The Happy Tap]
Theme: Get Used To It
Debra Dumochelle and Barry Adam (Man 7amp; Woman of the Year)
Windsor LG Community officially walks in Toronto's Pride Parade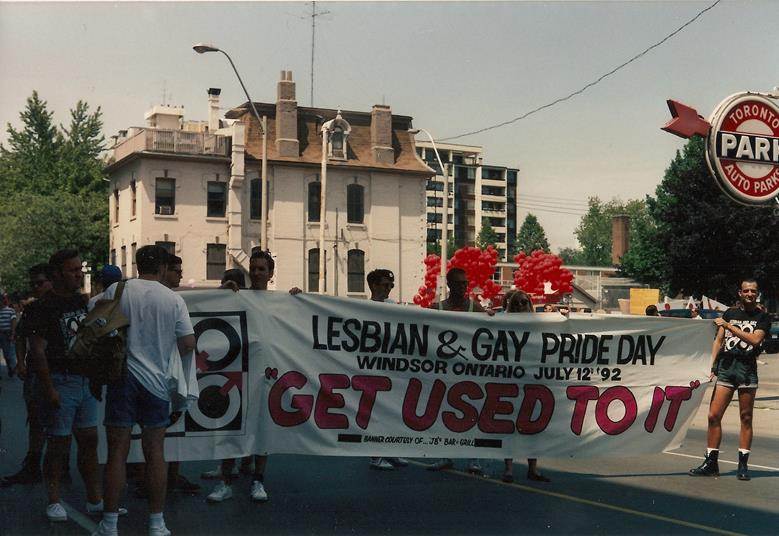 Windsor's first Lesbian and Gay Pride Day parade is held. First LG Pride Day - July 12, 1992.
City Council does an official declaration of support
Theme: "Get Used to It"
Founder: Jamie Pitts
T-Shirt/Posters/Banner Design: David Grenier
Founding committee: Jamie Pitts (chair), David Grenier (graphic design, secretary), David Jakoby (vice-chair), Marie-France Jean.
Site: JB's Bar and Grill (indoors and parking lot), Kildare/Wyandotte (current Kildare House)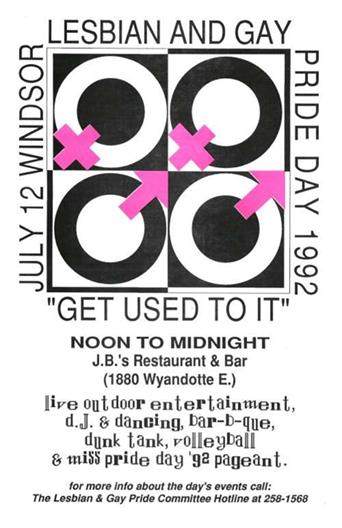 Sarah Carrol is elected to the Windsor West Reform Party board of Directors. She publicly comes out as Trans. Soon after coming out, she leaves Windsor to Vancouver because of death threats from some of her family and the Windsor community. She dies of complications due to AIDS in 1997.
One in Ten Youth Group starts: Founders Kenn Stanton and Chris Cecile. Goal of youth group:
To provide a safe and comfortable place for LGB youth
To improve self-esteem among LGB youth
To promote HIV prevention/education
To provide an opportunity for youth to learn about the LGB community, and encounter LGB role models, and
To provide an alternative social environment to bars
First Time the AIDS Quilt is publicly on display in Windsor. It is housed at the Windsor Armory and local names were put on display at the Capitol Theatre.
House of Venus is founded: Founded by Michael Venus, Greg George, Edward Abbey, and David Newman. Venus was formed with the intention of bringing positive energy through art and creativity. The collective achieved this by producing theme parties, performance,s and visual art and working in different media and mediums in Windsor and Detroit. They started creating wearable art and producing fashion shows on both sides of the border which then birthed their annual fundraiser Wiggle. They felt a need to give space for the Queer and artistic communities and with their DIY mentality that is exactly what they did during an era where being LGBTQ+ was not accepted. The Venus kids were known for their gender-bending ways and activism through art in the early 90s before heading to Vancouver in 1995.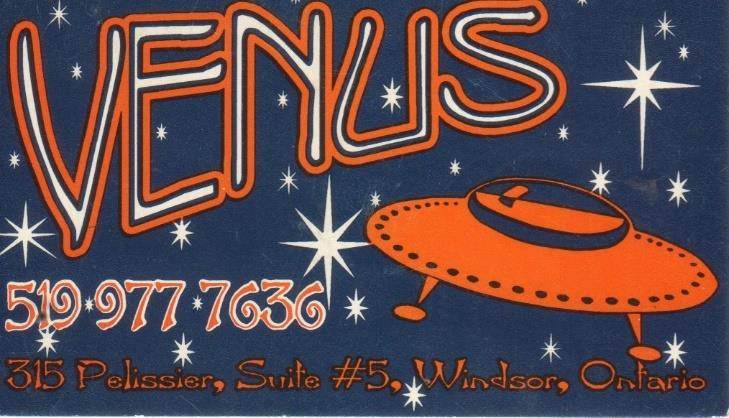 1992
Start of Windsor third Gay newsletter "Outspoken." It was funded in part with a start-up grant from the John Damien Education Trust.
University of Windsor group: Out on Campus founded. In the 70s it was called Gay Students on Campus. In the 80s it was called Lesbian and Gay Student Group.
First AIDS walk raised $13,000 last walk was done in 2011.
Black and White Men Together National Conference in Detroit: Included events in Windsor.
1991
First group home created in Canada for people living with AIDS.
First Joint International Protest at both sides of the Tunnel border. The protest was regarding American Immigration laws not allowing people with HIV/AIDS to cross into the United States. Canada does not have the same law but instead can turn people away for medical reasons which can include people with HIV/AIDS. AIDS Committee of Windsor and Detroit Chapter of the AIDS Coalition to Unleash Power organized the protest.
Day Without Art first observed in Windsor at MacKenzie Hall.
Patricia Wilson becomes the first out trans woman Executive Director of Windsor Arts Council. She leaves Windsor to Toronto in 1992 after some questionable (possibly transphobic) issues at the WAC. During her time at the WAC, she was "instrumental in saving the historic Capital Theatre."
1990
ounding of Metropolitan Community Church in Windsor (MCC) by Rev. Don McRae.
January 8, 1988, to 1993: the late Rev. Don McRae
1994 to 1996: Deacon Diane Skomash, Pastoral Leader
1996 to 1999: Rev. Evan LeBlanc
January 2000 to June 2000: the late Rev. Mark Bidwell (MCC Detroit)
September 2000 to December 2002: Rev. Marsha Dempsey
January 2003 to November 2004: Rev. Brenda Hunt
November 2004 to May 2016: Rev. Martha Daniels
June 2016 to Present: John Shellhorn, Interim Pastoral Leader
Founding of Womyns Place
Me, Her and Her. Windsor lesbian Music group. D. Yarrow Halstead, Barb Haggart and Julie M. Leadbetter. (Members were from both Windsor and Michigan)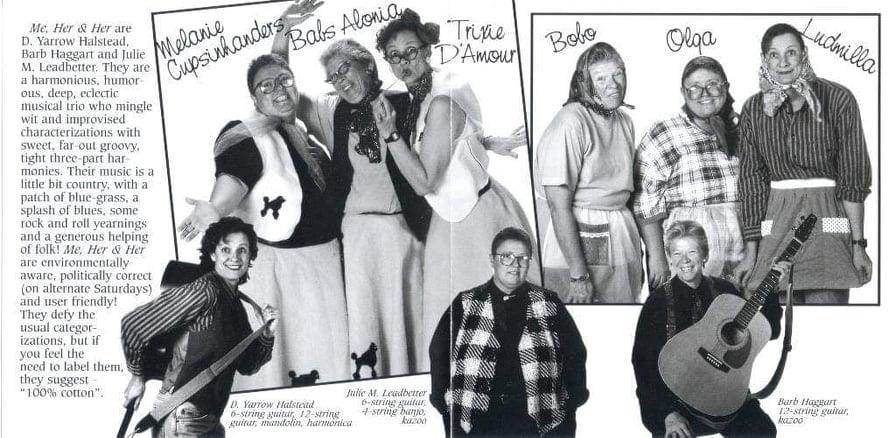 Founding of PFLAG Windsor.
AIDS Committee of Windsor is incorporated.
The Canadian Committee Against Customs Censorship is created. This organization was originally formed to oppose the seizure of gay and lesbian materials at the U.S. border. Barry Adam expert witness testified.
First MCC Same-sex Marriage Ceremony (pre-legalization) of R.S. and D.S
1988
Police Target queer and trans sex workers on Wyandotte St. E.
First AIDS Awareness Week. It included workshops and public forums. One was done at St. Clair, and one was done at Walkerville high school on teaching AIDS in schools. It was a very small turn out. Very few educators attended.
Kevin Brown is the first Windsorite to come out publicly about having AIDS. He does not live in Windsor but came home to visit family. He dies in 1989.
1987
The accused of Ralph Friedberg's murder is acquitted based on "gay panic" defence. After the verdict there was a community protest at courthouse.
Woman-PACT (Planning And Caring Together) Lesbian discussion group. Had speakers in the Windsor Library. Met monthly.
John Damian dies of cancer a few weeks after the OHRC includes Sexual orientation.
Iona College: A public forum is held where Iona College president Rev. Murray McGinnis, calls on Christian churches to repent for their mistreatment of LGBT people throughout history.
Police target queer men at Jackson Park.
Ontario AIDS Network (OAN) First meeting: The first meeting was in Windsor. Eight groups from Toronto, Ottawa, Windsor, Hamilton, Kitchener, London, Kingston and Thunder Bay.
Windsorite Kevin Brown, while living in Vancouver becomes the first person in Canada to receive AZT treatment. He is also the founder of BC Persons with AIDS Coalition that same year.
Sexual Orientation to be included in the Ontario Human Rights code. Bill 7: 64-45. Essex-South MPP Remo Mancini, Windsor-Walkerville MPP Bernard Newman. Windsor-Sandwich MPP William Wrye, Windsor-Riverside MPP Dave Cooke, Essex North MPP Patrick Hayes supported it.
1986
AIDS Committee of Windsor is founded out of the "condom committee" of the LGCSG.
Founding members: Jim Monk, Barry Adam, John Dufour, Wayne Tennant, Kevin Bishop, Colleen Gallagher, Beth Lyster
Office Locations
1986 - 1987: Jim Monk's apartment, College Avenue
Winter 1987 - December 1987: 3178 Walker Road
January 1988 - 1990: 1586 Wyandotte Street East, Suite 205
1990-1994: 1050 University Avenue West
1994 - 1997: 2090 Wyandotte Street East
1997 - 2006: Gino Marcus Community Centre, 1168 Drouillard Road
2006 - 2021: 511 Pelissier Street
2021 Changes name to Positive Pathways.
Executive Directors
1986-1989 Kevin Bishop
1989-1996 Steve Lough
1994- Kenn Stanton- interim
1996-2002 Amanda Gellman
2002-2005 Bob Nesbitt
2005-2010 Marilyn Weller
2010-2017 Michelle Sharp
2017-2021 Michael Brennan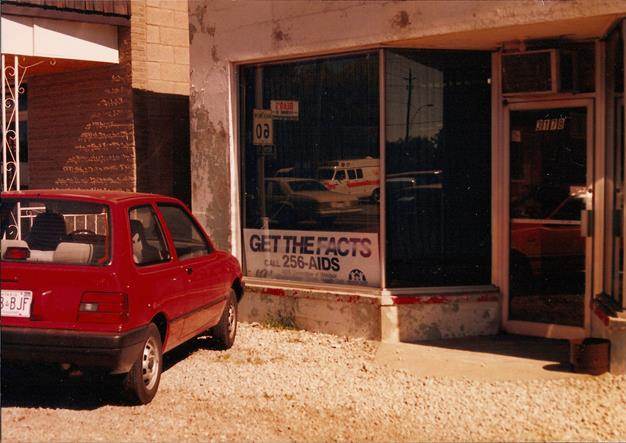 First GSA in Windsor/Essex County. École secondaire catholique l'Essor formed their first GSA, or l'Alliance Gaie-Hétéro (AGH) The student who started it was Bertrand Fournier and the teacher sponsor was Marc Dubois.
1985
Gay Awareness Week: Iona College with public events on Gays and Religion, Human Rights for Homosexuals, A Healthy Approach to Gay Sex, and pornography and Gay Culture. The Gay sex event was the first education session on AIDS in Windsor. William Townsend from Detroit becomes the first person to speak publicly in Windsor about having AIDS.
CBC Windsor refuses a public service announcement about the week.
City Council unanimously refuses to declare

Gay

Awareness Week following a presentation by Dr. Robert McGirr and Dr. Walter Percival who claim it would "display sexual activities in front of children" and "promote a way of life that spreads a lethal Disease."
LGCSG files unsuccessful complaints with the CBC and the Health Disciplines Board of Ontario.
Ralph Fredsberg, a local gay man, is murdered.
Windsor's first Lesbian Music group: Trinity, Members; Julie Leadbetter, Lise Desmarais and Denise Miron.
1984
Three Windsor community groups are members of the Detroit Lesbian and Gay Council
First Gay/Lesbian international celebration in North America entitled United for Freedom: Lesbian and Gay Freedom Day (Detroit/Windsor).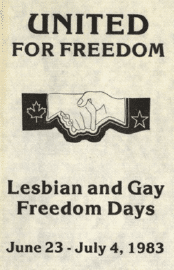 1983
Lesbian/Gay Community Service Group (LGCSG) is founded. It's mandate includes maintaining a gay information line, referrals to medical/legal professionals, peer support groups and pressing for a non-discrimination clause in the OHRC.
Vicki Charles wins first Miss Gay Windsor.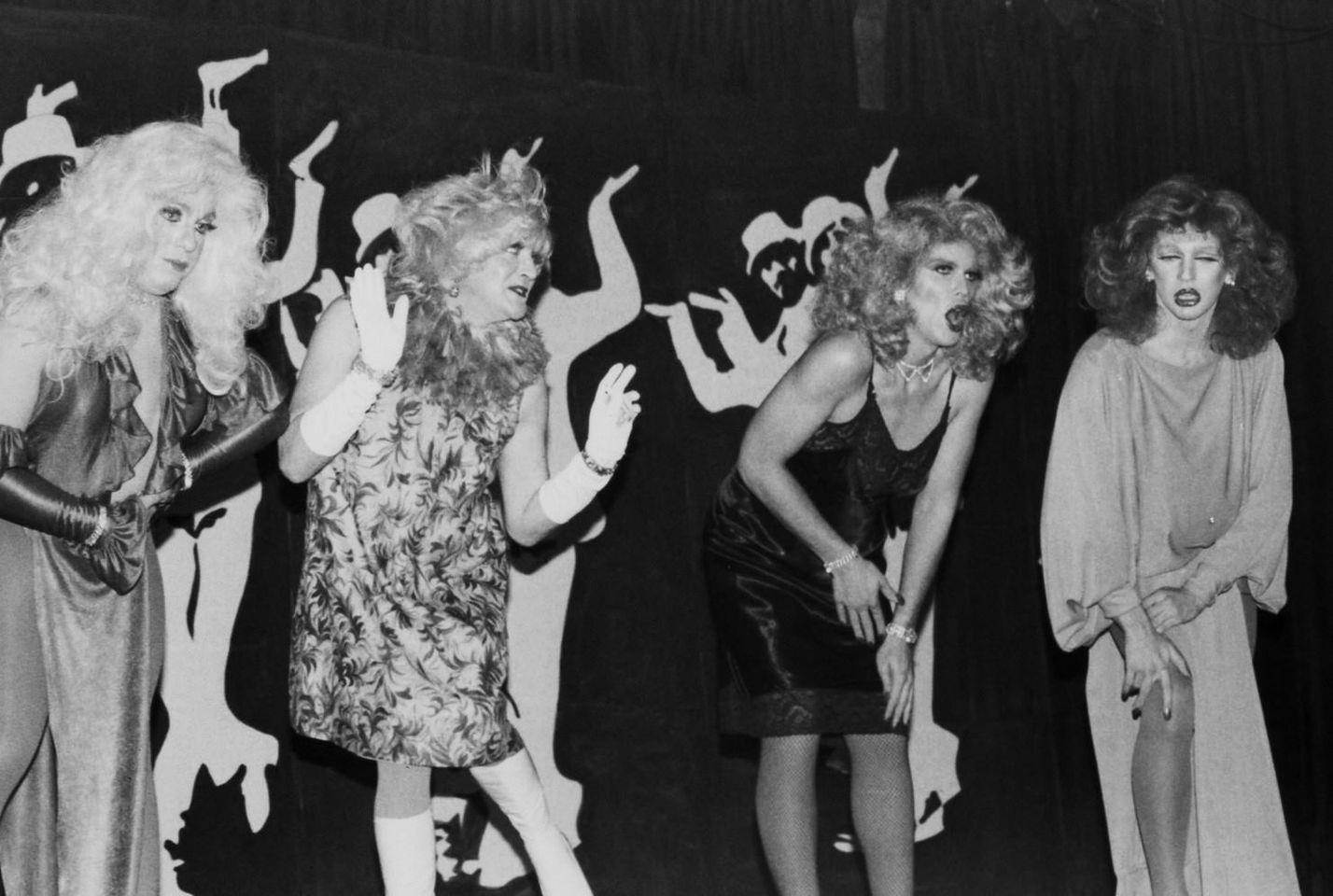 The first reported case of AIDS and the first reported gay person to die of AIDS in Canada is reported in Windsor. 43 years old gay man.
First International Gay Games held in San Francisco. Windsor participates with someone competing in Tennis.
The first international LGBT conference in Canada entitled Wilde '82 is held in Toronto. Dr. Barry Adam (University of Windsor) presents a paper entitled "Where gay people come from."
1982
Toronto's Bath House Raids. Windsorite Jim Monk, was chair of the Coalition for Lesbian and Gay Rights in Ontario (CLGRO) at the time and was one of the leaders of the protest.
1981
Jim Monk becomes chair of the Coalition for Gay Right's In Ontario's (CGRO)
Harold Desmarais becomes the Coalition for Gay Right's In Ontario's (CGRO) first executive secretary.
Detroit Lesbian/Gay Pride Celebration included events in Windsor.
1980
First local issue gay protest in Windsor. Members of the WGU were fired (Jim Davies and Harold Desmarais) from the Viscount Hotel for being gay.
Windsor/Essex County first openly gay politician. Cameron Frye runs for Mayor of Tecumseh. He loses the mayoral race by incumbent mayor Don Lappan who distributed hate literature that claimed Frye would promote "a gay lifestyle." On his last day as Municipal councilor he comes out publicly as gay.
Club for Steam opens on Hall Street.
1979
Members of WGU were distributing pamphlets and having a petition drive to include sexual orientation in HRC at the University when they were chastised and assaulted. In response "the Lance" the student newspaper had a six-week series on gay rights.
Gail Bezaire is given custody of her children but Judge Joseph McMahon rules that she can retain custody of her children only if she "refrains from entering into another lesbian relationship while the children were living with her."
"Never Going Back." Sept 2-4th CGRO conference in Windsor. It was seen by the city as a convention of gay people across Ontario. City council refused to recognise it. Alderman Don Clare stated, "I wouldn't vote for a national straight week either."
Crossdressing Magazine Tri-Ess: Femme Mirror includes coded names of Windsorites who are active in the Ann arbor meetings.
Jim Monk becomes the first openly gay person to run for school trustee in Windsor. He loses.
October 14, Canadian lesbians, and gays joined in a National Day of Protest against the federal government's program of wage and price controls. Members of local lesbian and gay groups participate.
First gay focused radio show in Windsor. Closets R 4 Clothes, CJAM Radio Show. Monday evenings. Hosts: Jim Monk, Kevin Bishop, Mike/Bob Christmas, and Cathy Jamieson.
The murder of black trans woman as reported in the Windsor Star, "black Transvestite" was found in a "woman's dress and coat." Four people were charged with first degree murder. It was than changed to three individuals getting charged (one accused died in car accident before trial) with manslaughter. She was misgendered in the Windsor Star.
1978
Gay Students on Campus established at the University of Windsor and distributes literature to all faculty on "Helping Someone Gay."
Windsor City Council passes a non-discrimination clause for city hiring. The third in the country to do this.
First Gay Rights protest in Windsor: October 22, 1977. Twenty-four people protested employment discrimination against gays and support for John Damien. They demonstrated in front of an Ontario government building before marching through the city market and along the main street.
OPIRG Windsor (Ontario Public Interest Research Group) is founded by Mike Ura. It is not till Jim Davies becomes coordinator in 1995 that LGBT issues are included in the group.
1977
Windsor LG Phoneline: for Information and support of the queer community. Staffed by volunteers. Jim Monk thinks the phone line began in the office of WGU, in the basement of the building across from Victoria Park Place on Pitt Street. It was funded by the dances at the IBEW union hall. The phone line migrated to various peoples' houses, eventually Frank Butler's, until its move in early 1990s to AIDS Committee of Windsor office on University Avenue.
MPP Ted Bounsall (Windsor-Sandwich) brings forward a private members bill to Parliament to include Sexual Orientation under the Ontario Human Rights Code (the first of its kind in Ontario). It was defeated.
Start of Boblo Island Gay days: Gay boat Cruise from Detroit to Boblo Island.
1976
Windsor is one of the founding members of the Coalition for Gay Rights in Ontario (CGRO) [which later changes its name to Coalition from Lesbian & Gay Rights in Ontario (CLGRO), which is now called Queer Ontario]. They begin an eleven-year struggle for inclusion for sexual orientation in the Ontario Human Rights Code.
Windsorite: John Damien is fired from the Ontario Racing Commission in Toronto because he is gay. This becomes a rallying cry for the CLGRO.
The Ontario NDP adopts a motion put forward by Windsor activist Harold Desmarais to add the inclusion of sexual orientation in the OHRC as part of their Party Platform.
WGU opens a drop-in centre with the financial backing of local Doctor Ray Bluett.
The Ritz Hotel opens as Windsor's first "official" gay bar.
1975
Local 195 of the CAW Human right committee lead by Les Dickirson recommends that all CAW bargaining units revise the anti-discrimination clause in their collective agreement to include sexual orientation.
Windsor Gay Unity Newsletter starts. It published till 1979.
1974
The Windsor Homophile Association change their name to Windsor Gay Unity.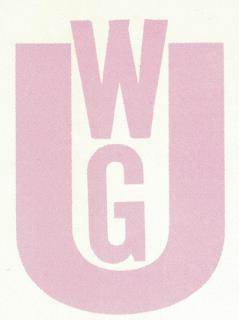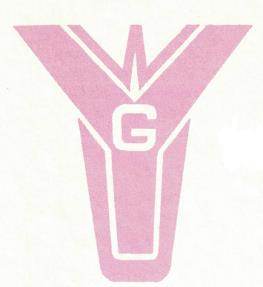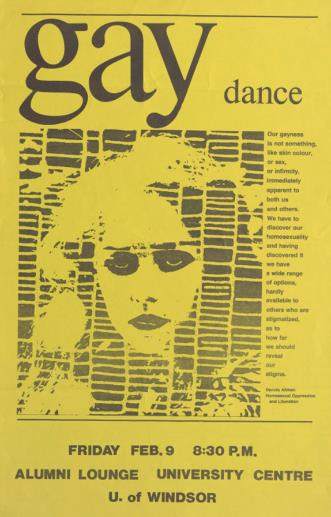 National Gay Pride Week: Windsor participates by having a petition to include sexual orientation in the Human Rights Code and a gay-themed dance.
Windsor sends representative at the First Gay Conference held in Quebec.
WGU decided to put an ad in the Windsor Star to get even more exposure to their already popular dances. The ad said "Gay Dance. Saturday 8:00 Pm Alumni Lounge U. of Windsor." The ad was rejected. The editor at the time Mr. O'Callaghan said it "exploited sex and was in bad taste." WGU decided to fight the decision and reported to the papers Press Council. O'Callaghan defended his position with many homophobic statements like, "We have no intention of lowering our standards on good taste." The Press Council agreed that the Windsor Star discriminated against WGU. Windsor Star continued to refuse the ads even though they lost. This was not officially resolved until 1979.
1973
Tracy Starr advertises as Windsor's First Female Impersonator

Founding of the Windsor Homophile Association at the University of Windsor. Windsor's first Gay Liberation group. Founders: Steve Lough and Jim Davies. Lough called a meeting at the University, which was attended by Lough, Davies and one other university student. Jim Monk was at the 2nd meeting, and Harold Desmarais joined soon afterward.
Dr. Tom Clark finishes his PhD at University of Windsor. His thesis is one of the works that caused the American Psychiatric Association to state that homosexuality should no longer be considered a psychiatric disorder.
L. Paterson (chosen name unknown) is believed to be the first male to be convicted of prostitution in Canada since changes to the criminal code widened the offense to include both male and females.
"The continuum from heterosexuality to homosexuality." University of Windsor Department of Sociology and Anthropology have speakers from gay liberation, the sexual freedom league and the gay peoples church.
Canada's earliest politician to come out as gay (1980) Cameron Frye, is elected to the municipal council in Tecumseh.
1972
Pat Noonan (Straight ally) starts the Woman's Liberation group in Windsor. Lesbians are welcome to attend.
1970
Douglas Sanders (one of the founders and second president of Canada's first Gay organization ASK) moves to Windsor. He leaves two years later.
Canada decriminalized homosexual acts between consenting adults with the passage of the Criminal Law Amendment Act and receives royal assent.
1969
First example of a professional Canadian written play with a queer subject matter to perform in Windsor: the play "Fortune and Men's Eyes" is performed in Windsor as part of the Dominion Drama Festival. The author John Herbert comes to Windsor to see the show.
Dr. Mark R. MacGuigan. Dean of Law at the University of Windsor. Special legal adviser for Justice Minister Pierre-Elliot Trudeau in 1968. Member of the Canadian Parliament for Windsor-Walkerville. He was part of the changes of criminal code related to homosexual activity.
1968
Etna's Steam Bath becomes Vesuvio Steam Bath. It closes around 2009.
1965
Canada's first Bathhouse raid happens at Etna's Steam Bath on Brant Street.
1964
Windsor Little Theatre perform "The Children's Hour."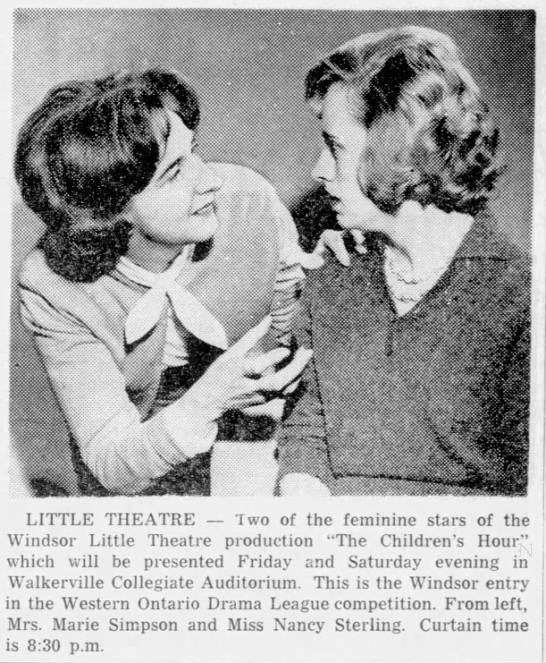 1963
Etna's Steam Bath opens on Brant Street.
1962
Sun Parlor Playhouse perform "Tea and Sympathy."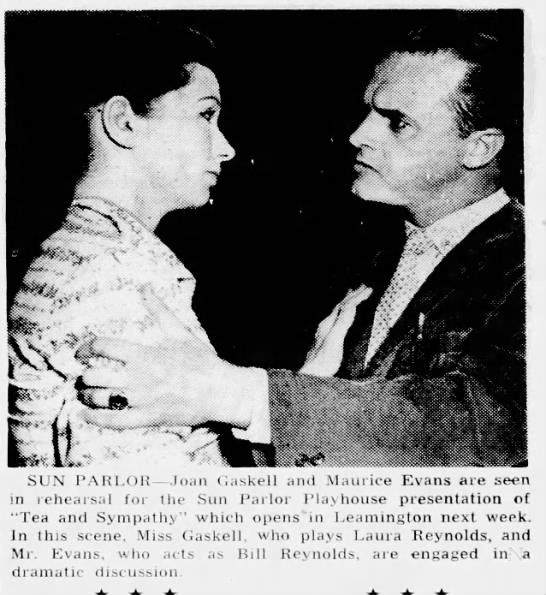 1961
First Example of a professional play with a gay theme to be performed in Windsor/Essex. Sun Parlor Playhouse performs "Cat on a Hot Tin Roof."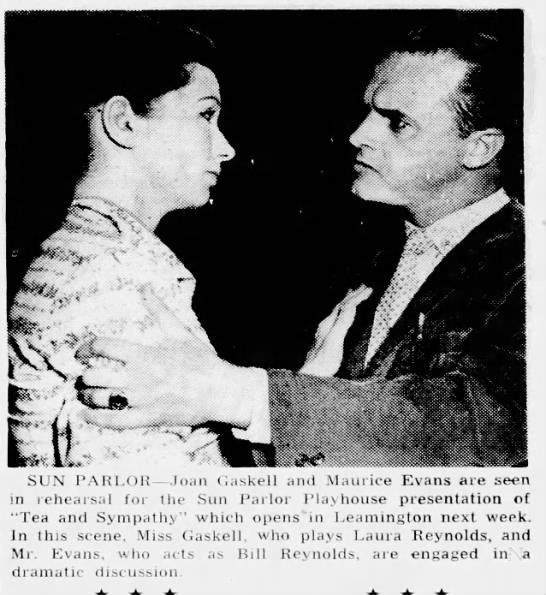 1960
Windsor Star 17 June 1957 p12. Storme DeLaviere was involved in the Stonewall uprising. She is considered the person who gave the first punch at Stonewall.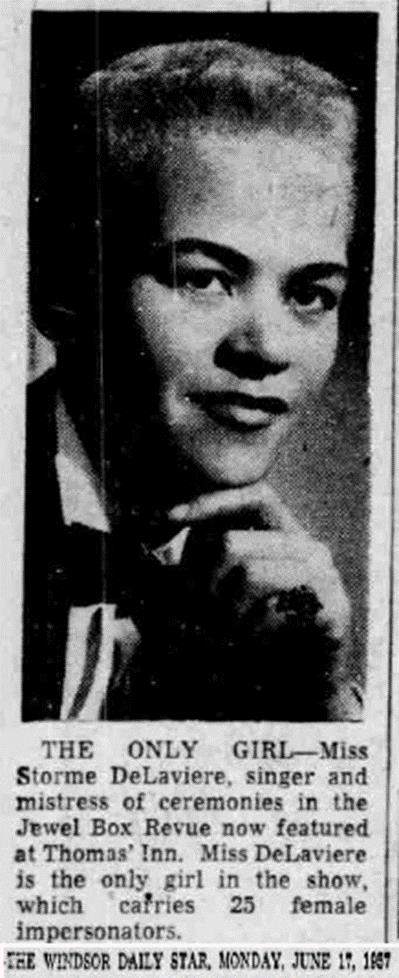 1957
First documented local Professional Female Impersonator: Peter P Curran is arrested for stealing fur coats. It is stated that he was a local professional female impersonator in Windsor. He went by the name of "Bobby" or "Bette Davis."
1953
Pansy Craze Starts in Windsor: Professional groups perform in various places in Windsor including La Gloria Jean: First example of a black Female Impersonator performing in Windsor's Thomas' Inn. Also performing are the Jewel Box Review at Canada Tavern which they continue to come back to Windsor 3 times. Other performers include; Mr. Adrian Ames, Leslie Roberts, Portraits in Black Revue, The Continentals, and the Turnabout Follies Revue in 1968.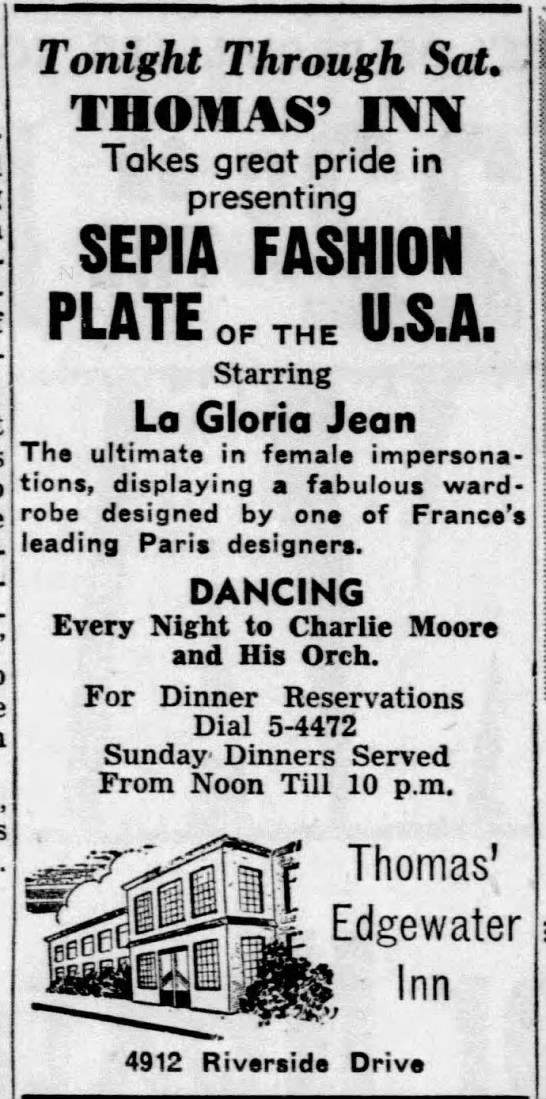 1952
The slasher attacks continue with Alexander Voligny, and Joseph Gelencser. They were the last two victims. The murderer is caught in September.
From January to September: Frontiersmen are given Special Constable ability to arrest men in parks.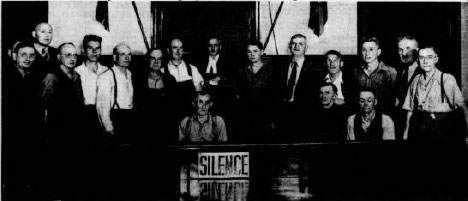 In September, 20 Parks employees are given the power to arrest and the start of the "War Against Sex Crimes Campaign" begins.
1946
First serial killer in Canada who targets queer men. The first of the Windsor Slasher Murders are discovered. The killer approached queer men in Riverside parks and stabbed them repeatedly in the back. George Mannie, Frank Sciegliski and Sgt. Hugh Blackwood Price were the first three victims.
1945
Local Windsorite: John Bickle becomes the dance director for the Royal Canadian Air force (RCAF)'s show "All Clear". The show tours the globe to entertain troupes around the world.
1944
Unnamed individual is arrested on disorderly conduct. The paper stated that the individual was not arrested "for wearing women's clothing but because he was causing a breach of the peace…they saw him wave kisses at a crowd on Ouellette Ave." The individual was first placed in women's detention then was moved into men.
1941
Pansy Craze. The Pansy Craze was a phenomenon that started in New York. One of those original performers moved to Detroit (Karyl Norman) and the Pansy Craze expanded to Detroit. The shows first started to be advertised in the Windsor paper. This continues to be advertised until 1940.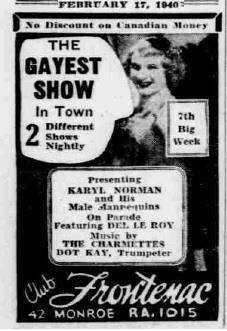 1936
Windsor Steam Bath opens on Mercer St. Closes in 1957.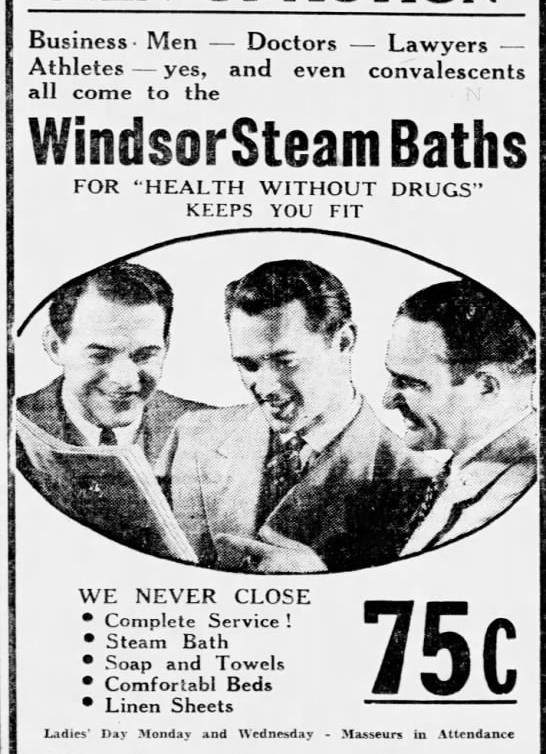 1930
Red Allan: First recorded example of a local Female Impersonator. Performed in the play "Hokum" at Walkerville Theatre as well as the Windsor Armories. It included blackface.
1924
Dumbells Craze. A World War One troupe that toured the world to entertain the Ally soldiers. The troupe included female impersonators. After the war, they toured around North America. The Dumbells first came to this area in 1921 with the show entitled "Biff, Bing Bang" in Detroit's Shubert Theatre. The show included a Windsor night performance. After that, they came to Windsor 10 times. Windsorite John Lougheed was part of the original troop who played in the musical pit. Please note that they also did blackface.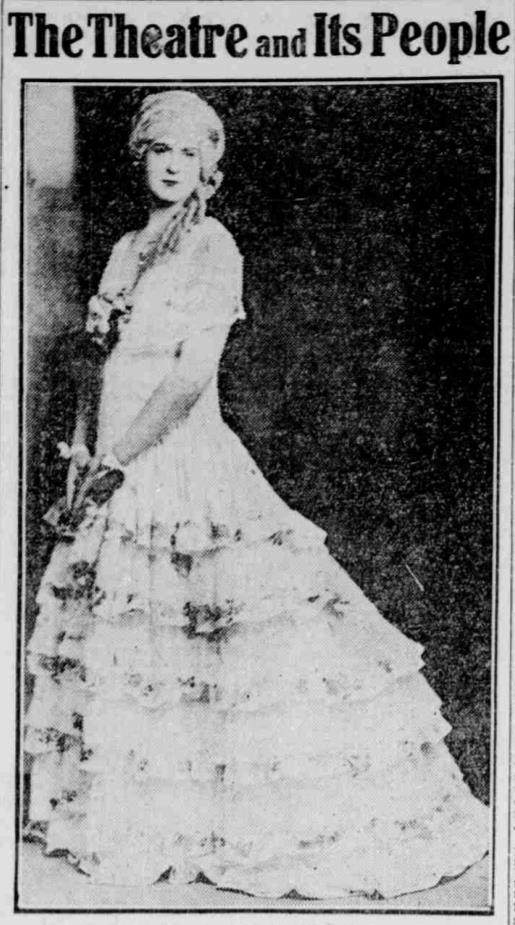 A black drag ball is reported in the Windsor Star. This ball happened in Detroit. "11 strong-arm Negroes, dressed as women" were arrested supposedly enticing men into alleys and robbing them.
1923
First time that a local newspaper (Windsor Star and its earlier titles) publishes peoples' full name who were accused of queer activity. Starting in 1933 the Windsor paper started including their home address for being arrested for having been caught breaking the law (which could be as simple as holding hands or engaging in sex with the same gender). This practice led to many local Windsorite's to move out of the city or commit suicide. This practice lasted till 1972.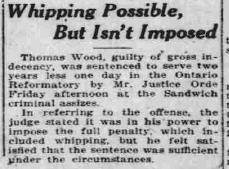 1922
First time the word Trans is published in Windsor: The incident happened in Anderdon and Colchester South: Three men were seen "masquerading in female attire." The newspaper reported them as German spies who "were going about the country in trans-sexes attire" to shoot Major Balfour. Other reports do not include the assignation attempt or their supposed German spy connection.

1916
First Professional Male Impersonator to perform in Windsor: Ollie Chapoton at the Empire Theatre.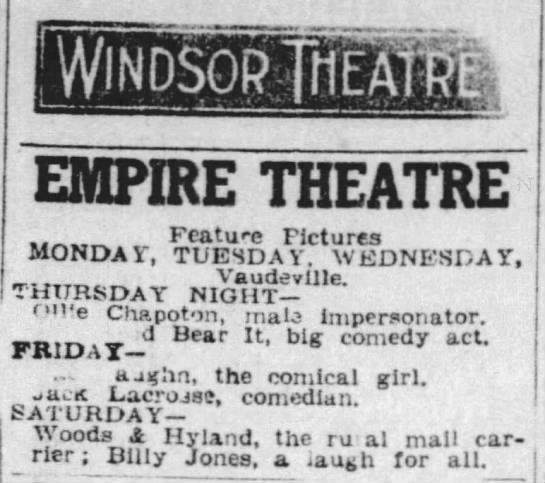 1913
First example of a professional Female Impersonator performing in Windsor: Vaudeville Show that included the Great Westin & Company that did a Female Impersonation of Queen Victoria. Performed at Windsor Theatre.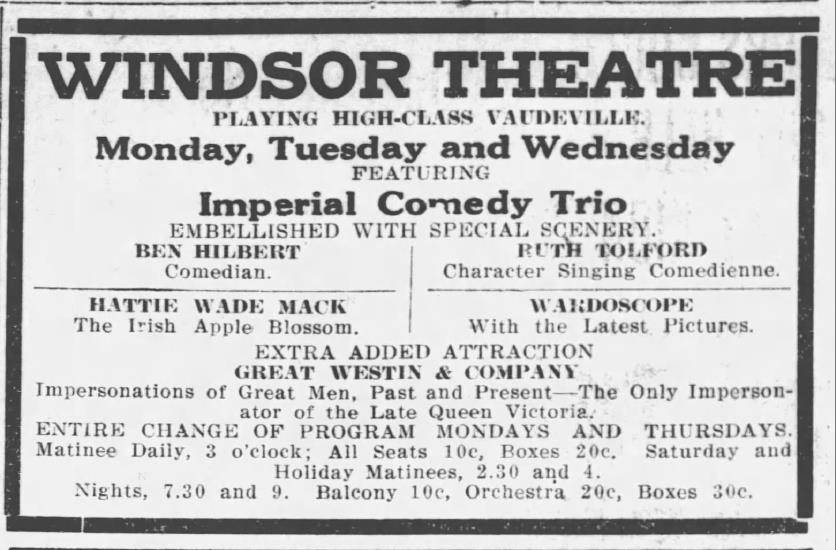 1912
A local example of female name change being accepted to someone identified as biologically male.

1904
First article on the history of Trans experiences internationally: Article in Evening Record (Windsor Star) Entitled: Strange People: Some Who Have Changed Their Sex Apparently
1896
First example of a possible gay/trans bashing (gone right): A person (possibly black) who was called "Sissy Petticoats" is attacked but successfully fights back. As recounted by "old man McCurdy."
First example of local Gender non-conforming incident in Essex; "Two prominent young ladies in Essex promenaded the streets of that town in male attire."

1893
After a robbery in Sandwich as stated in the Windsor newspaper article: William Callehan and Matthew Kennedy were caught. While they were in jail in Sandwich it was reported that both escaped while in women's clothing and escaped to Detroit. One person was caught the other was not found.
1884
Reverend Thomas Franchon President of Assumption Collage left in a scandal.
1859
Earliest example of gender non-conforming behaviour: There are a few reports of former enslaved people who left the United States by dressing in the opposite gender than what they were assigned at birth:
A former slave called Aunt Nancy escaped from New Orleans. It was reported in the Fugitive: "He was dressed in female attire and was commanded to answer to the name of Aunt Nancy. The lady (who helped Aunt Nancy escape) would then put her infant child in the arms of Aunt Nancy and make her take care of it." Most of the article used female pronouns "by the spirit of freedom she was wafted to Canada, where she has donned, substantially and literally, the habiliments of true manhood as an independent freeman and thorough going British Subject."
Reported in the Fugitive: "Woman wearing the breeches." One fugitive coming from the south had her enslaver "pass her on the highway, in a free state, in hot pursuit making her a polite bow in passing, but not recognizing her, even in his own suit."
1851
Canada's first men documented conviction of "homosexual sex between two consenting adults." Lance Corporal Samuel Moore and Private Patrick Kelly of the 89th Regiment. There is no record of the two of them at Fort Malden, but their regiment is recorded to be at Fort Malden at the time. Their trial was convened in Sandwich town, and they were to be put to death on July 15th. Instead, the Governor General got involved and commuted their sentence to life in prison. Both were sent to the Kingston Penitentiary. Moore was released in 1849 and Kelly were released in 1853. Both stayed in the Frontenac Ontario Region until their deaths.
1842
Treaty #35 signed with Huron-Wendat.
1833
Treaty #2, known as the McKee Purchase, was signed with 50 representatives.
1790
The title of and rights of the Walpole Island First Nation (Bkejwanong First Nation) to its Territory affirmed by Royal Proclamation.
1763
Start of colonization by Jesuit missionaries and French explorers.
1701