From CBC News
The Well is set to open on Erie Street in Windsor in the fall.
A new bar will create a safe space and fill a void in Windsor, Ont., when it opens later this year, some LGBTQ community members say.
The Well is set to open on Erie Street in Windsor this fall, owner John Ribson told CBC News. It's a bar, restaurant and nightclub that describes itself online as a place "with arms open to all walks of life" with a mission to provide spaces for the LGBTQ community.
The Well already has locations in London, Toronto and Hamilton.
Wendi Nicholson, president of Windsor-Essex Pride Fest, remembers many gay bars over the last 40 years in Windsor, all of which have since closed. It's exciting to hear that one will be opening, she said.
"There is a need for one because we do like to have our space where we can go and be ourselves," said Nicholson.
Instead, she said people in the local LGBTQ community often go to Detroit to find the nearest gay bar because there isn't one locally.
Delays have pushed back the opening of The Well in Windsor by several months but Ribson said he hopes it will open by October.
Nicholson said she has fond memories and lifelong friendships stemming from the Happy Tap Tavern, located on Wyandotte Street East where The PlayHouse gentleman's club currently exists.
The Happy Tap Tavern, and a different iteration of it called Legends 2012, closed more than a decade ago at that location.
"Mother Mary behind the bar keeping everybody in line," said Nicholson with a laugh. "Pool tables, dancing, drag shows, queens and kings of drag."
Recent protests underscore need for LGBTQ spaces, Nicholson says
Discussions about gender identity have at the forefront in recent weeks, with duelling protests in front of the Greater Essex County District School Board offices.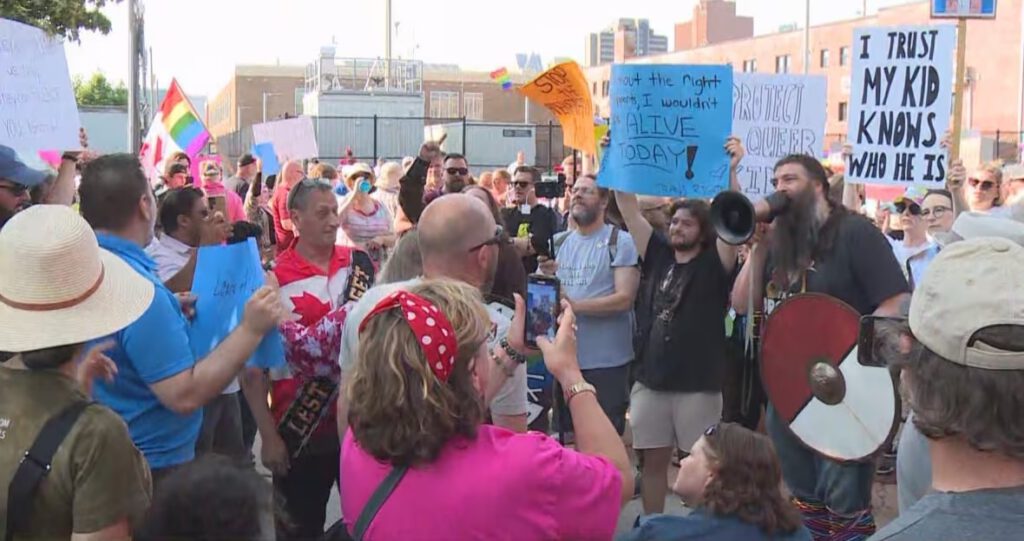 Some parents don't agree with gender identity policies that allow kids to identify by a different gender at school without parents' knowledge. Other parents have said they don't want gender discussed at all in the classroom.
LGBTQ community members and allies attended in support of the policy, saying it gives children a safe space to express themselves, on their terms.
Across the border in places like Florida, Gov. Ron DeSantis signed new laws in May banning gender-affirming care for minors, restrict pronoun use in schools and force people to use the bathroom corresponding with their sex in some cases.
As these protests happen and laws come into place, Nicholson said reminds her of the safe space gay bars used to provide in Windsor — and the need for LGBTQ spaces now.
"It was great because everybody could come together," said Nicholson.
"It gives us a safe space to be in where we don't have to worry, looking over our should [wondering] 'is someone is going to come at us? We can go there and just be ourselves."