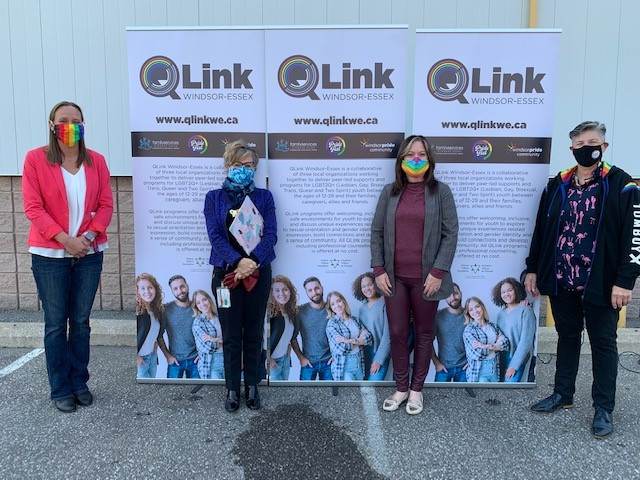 Launch of QLink Collaborative (left to right) Jessica McCulloch, Windsor Pride Community; Beth Ann Ternovan, Family Services Windsor-Essex; Lisa Gretzky, MPP Windsor-West; Wendi Nicholson, President, Windsor Pride Community. (photo courtesy of Windsor-Essex Pride Fest)

Blackburn News
October 11, 2020
A new LGBTQ2S+ collaborative is launching a roster of new programs for youth in the community.
The Windsor Pride Community, Windsor-Essex Pride Fest and Family Services Windsor Essex launched QLINK for youth aged 12 to 29.
"The idea behind Qlink is to prioritize the needs of Lesbian, Gay, Bisexual, Trans, and Two-Spirit (LGBTQ2S+) youth ages 12 to 29 and their families through increased access to mental health programs, services, and supports that strive to improve emotional and social strengths among LGBTQ+ youth," said Colm Holmes, President of Windsor Pride Community. "As a result, LGBTQ2S+ youth who are facing barriers will develop stronger emotional and social connections which will allow for an overall healthier community here in Windsor-Essex. Windsor Essex Pride Fest and Family Services Windsor-Essex share this concern and together we will work to achieve this goal.
"The collaborative received $714,800 in funding from the Ontario Trillium Foundation to launch the peer-led supports and programs. All of the programs will be offered free of charge.
"We are thrilled that the community has received this funding that will provide free access to programs and services that are vital to the health and wellbeing of young people. And we are truly honoured to be part of the first LGBTQ+ collaborative project in Windsor-Essex," says Wendi Nicholson, President, Windsor-Essex Pride Fest.
QLink programs offer inclusive, safe environments for youth to explore and discuss unique experiences related to sexual orientation and gender identity and expression, build connections and develop a sense of community. More information can be found on the website here.
The Ontario Trillium Funding will fund the program for three years.