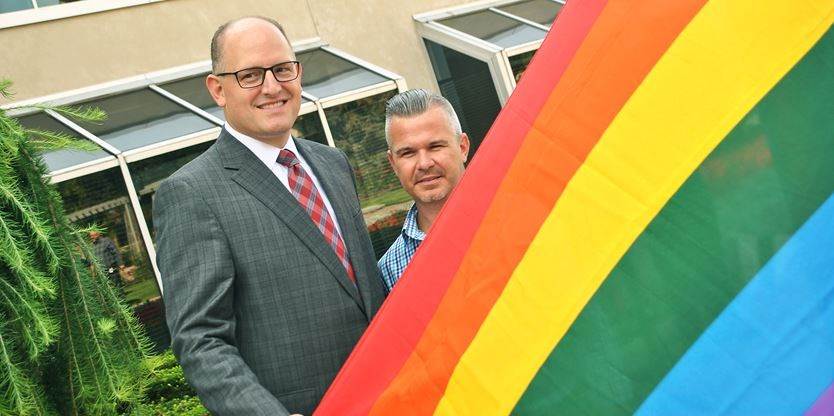 Windsor Mayor Drew Dilkens and Windsor-Essex Pride Fest president David Lenz are shown with the rainbow flag before raising it up a pole at City Hall to kick off the festival Aug. 9, 2017. – Tom Morrison
The Windsor-Essex Pride Fest has "come a long way" since it started 25 years with a significant growth in attendance, according to its main organizer.
"When I got involved, it was 12 years ago, but it's grown from a couple hundred people to a few thousand on the waterfront in one of the prime spots, so you're right in the thick of things," said festival president David Lenz.
The 2017 edition of the five-day event kicked off Wednesday morning with the annual raising of the rainbow flag at Windsor City Hall.
Lenz said along with the growth in numbers, there has also been a noticeable change in attitudes of the wider community toward those who identify as LGBTIQ2S.
"It's more accepting, it's more understanding and I'm glad that's happened," he said.
But there are still challenges to address, said Lenz. Windsor West MPP Lisa Gretzky brought up President Donald Trump's recent announcement to ban transgender people from serving in the U.S. military as an example.
"The trans community has had a little bit harder time because the discrimination against them has been really bad and we're trying to fix that," said Lenz.
Jayce Carver of WE Trans Support said she was honoured to be given the chance to speak at the flag raising about issues facing the transgender community.
"We have an idea that we won't be included in society or that we will face discrimination, which is true in a lot of respects, but that stops us from taking those first steps that we need to in order to be included and to healthily transition," she said.
A new addition to the festival this year is the alcohol-free event Untoxicated being held Friday at the festival headquarters at 536 Pelissier St. There will also be an alcohol-free tent during celebrations at the Windsor Riverfront Plaza.
Lenz said the festival wants to provide opportunities for those possibly recovering from addition to get together through peer-support groups.
"Oftentimes, pride events are heavily influenced by drugs and alcohol, not because of Pride Fest, but just because it's a party," said Carver, one of the chairs of the Untoxicated event. "We want to include everybody who is in the LGBT community in a way that's safest for them."
Pride Fest will also be making more of an effort to reach out to people in the county this year, said Lenz.
"Those are the people we're not reaching and those are the ones that don't have transportation or their families aren't comfortable with their situation, so that's why we're trying to get out there," he said.
The pride parade, a staple of the festival, could be the largest one yet with 47 floats registered so far, said Lenz.
The parade starts 10 a.m. Sunday at Food Basics at 888 Goyeau St. and will head down Ouellette Avenue towards the riverfront.