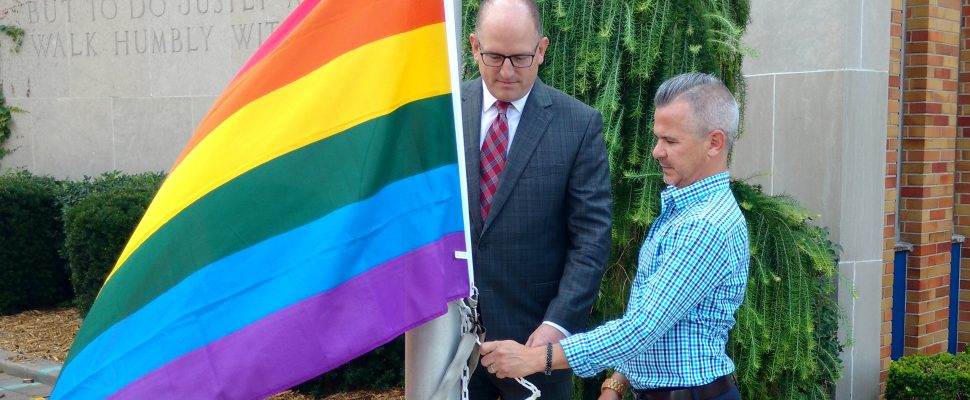 Windsor Mayor Drew Dilkens prepares to raise the rainbow flag at City Hall with David Lenz of Windsor PrideFest on August 9, 2017. Photo by Mark Brown/Blackburn News.
A celebration of diversity marks a milestone.
Windsor-Essex PrideFest kicked off its 25th year Wednesday with the traditional raising of the rainbow flag at City Hall. The rainbow flag is the universal symbol of the lesbian, gay, bisexual and transgendered communities, along with other areas of the spectrum in regard to gender and sexuality.
The festival has grown from a one-day event in 1992 to a multi-day celebration last year. David Lenz, president of Windsor-Essex PrideFest, says he is happy with how far the event has grown.
"From a couple of hundred people to a few thousand on the riverfront in one of the prime spots, so you're right in the thick of things," says Lenz. "Even the community has changed as well, it's more accepting, it's more understanding, and I'm glad it's happening."
One new aspect of the festival this year is the unveiling of a new support centre specifically geared toward members of the transgendered community. Local transgender activist Jayce Beaudoin-Carver announced Wednesday that the centre's website will go live later this weekend.
Attention was called to a proposal to bar transgendered people in the US from serving in the US Armed Forces. It was pointed out that the Canadian Forces currently have a policy allowing transgender people to serve their country. Lenz says in that aspect, there is still some work to be done.
"The transgendered community has a bit of a harder time," says Lenz. "The discrimination against them has been really bad and we're trying to fix that. That's why I brought Jayce up with me today with her programs. I think that's going to help educate people."
Lenz pointed out that some communities in Ontario still do not have specific Pride celebrations, noting that Thunder Bay is holding its first one ever this year. In comparison to major Pride celebrations such as Toronto's, Lenz says Windsor's has grown in importance, but the region's focus is different.
"Ours is a little bit more community-based," says Lenz. "It's a closer-knit community. People know each other and help each other out, where the city of Toronto is a little bit bigger and the communities are kind of spread apart."
Events continue Thursday with Pride Bowling Night at REVS Rose Bowl Lanes in Windsor. Lawn bowling is introduced to the program this year with an event Friday night at the Windsor Lawn Bowling Club in Jackson Park. Also on Friday is the Glitterball at Rondo nightclub downtown, as well as the all-ages Untoxicated music event at the Pride office on Pelissier.
Saturday night brings the 19-and-over GLOW dance party at the Riverfront Festival Plaza. Sunday climaxes with the family-friendly Pride Parade down Ouellette Ave at 11am followed by Pride Day events and activities at Festival Plaza.