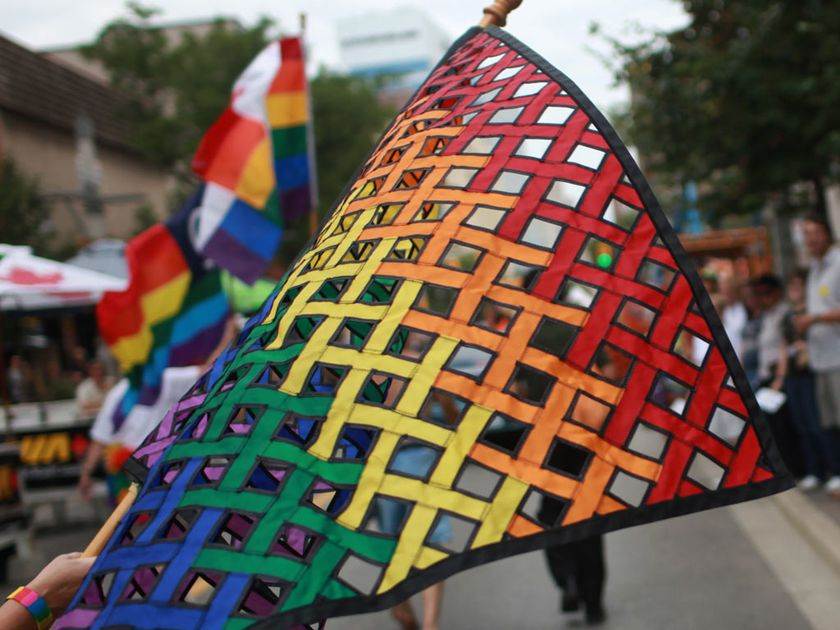 In this file photo, rainbow flags accentuate the annual Windsor Pride parade celebrating lesbian, gay, bisexual and transgendered community members. Photographed August 2012 in downtown Windsor, Ont. (Dax Melmer / The Windsor Star)
Windsor, Ontario: Formerly the automotive capital of Canada — now a gay tourist attraction?
Don't scoff. The local tourism bureau believes it's a title our region should be striving for.
"We are coming out and saying we are LGBT-friendly," said Gordon Orr, CEO of Tourism Windsor, Essex, Pelee Island.
On Thursday, the bureau announced that Windsor-Essex is one of three regions in the province participating in an initiative led by gay-focused tourism industry association Travel Gay Canada, backed with funding from the Ontario Ministry of Tourism.
The purpose: To figure out better ways to attract the travel spending of those who identify themselves as lesbian, gay, bisexual and transgendered.
The initiative will include diversity training, awareness programs, targeted promotions — all meant to draw LGBT tourists.
Here's why: According to Orr, North America's LGBT population spends a whopping $73 billion on travel every year.
"They're typically more of an affluent group," Orr said. "More disposable income, and (they) are willing to pay more money. Typically, they like to have boutique-style experiences."
The other regions in the initiative are the Waterloo-Guelph-Stratford area and the Gananoque-1,000 Islands area.
But Travel Gay Canada believes Windsor-Essex has what it takes to compete with those destinations for gay tourism dollars.
In a news release, Travel Gay Canada's executive director Darrell Schuurman praised our region's "many wonderful experiences and attractions that appeal to the LGBT market."
That's not just an anecdotal assessment. Orr said Travel Gay Canada and the tourism bureau worked together on a market-readiness survey that determined Windsor-Essex has the attributes gay travellers look for.
Orr noted the city's numerous restaurants and diverse culinary culture; the county's well-respected wineries; the picturesque outdoor scenery of our riverfront and conservation areas; our downtown nightlife; our creative arts community; and the rich history that surrounds us.
And let's not forget the casino. Orr pointed out that Caesars Windsor has already started courting the LGBT market, devoting a website specifically to that audience. "It just proves this is a market segment that isn't to be overlooked," Orr said.
According to Orr, the notion of Windsor as a blue-collar, lunch-bucket, rust-belt city is woefully out of date.
"I think, from a tourism standpoint, that's an old myth," he said. "I think anyone who's aware of our tourism assets in the region knows that we have much to see and do."
On top of Windsor's finer qualities, there's the fact that same-sex marriage is legal in Canada.
And Orr predicts that when Toronto hosts World Pride celebrations in 2014 — the same year Cleveland, Ohio, hosts the international Gay Games — hundreds of thousands of LGBT tourists from around the globe will be coming through Southern Ontario, boosting local economies.
It all adds up to plenty of good reason why Windsor-Essex should be waving the rainbow flag.To Orr, it's no more unusual than promoting the region to seniors as a retirement destination. "We go after any and all markets that we feel have got some potential. And when the Travel Gay Canada folks approached us, and they had funding … we jumped on board."
As for the concern that treating the LGBT population as a target market amounts to stereotyping individuals, Orr said that looking at averages is the nature of market research.It just so happens the research shows LGBT people like to spend money on travel. "It's a $73 billion industry — that, you cannot debate," Orr said.
"My staff is 100 per cent diversity-trained," he added. "We're taking this very seriously."
Orr said a meeting on the initiative was held Tuesday night with dozens of local stakeholders. "Toolkits" on LGBT tourism market development were distributed, and remain available at the tourism bureau's offices.