Windsor Pride has gone mainstream.
Twenty years ago, the city's first Lesbian and Gay Pride Day occurred in a parking lot off Wyandotte Street East. It was a one-day event and only a couple of hundred people attended.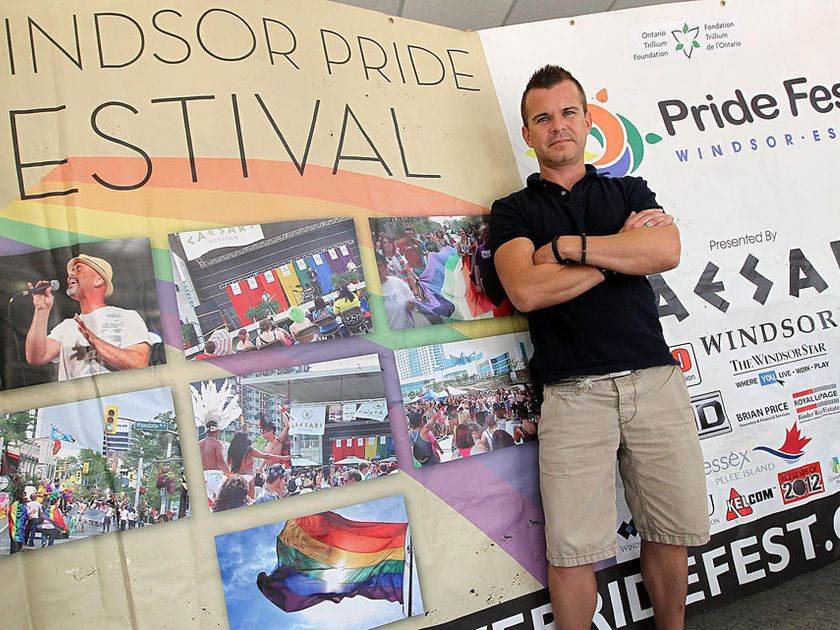 David Lenz is photographed at the Windsor Pride offices in Windsor on Wednesday, August 8, 2012. This years pride will feature a family friendly theme. (The Windsor Star / TYLER BROWNBRIDGE)
This year, marking the 20th anniversary and now called Windsor Pride Fest, the event will be celebrated over four days starting Thursday and around 4,000 people are expected to attend.
But what's changed isn't just the numbers. The focus has shifted to more family-oriented activities.
"We've always tried to incorporate family aspects like face-painting and rides but this year we've gotten a little bit bigger with it and actually partnered with Family Services Windsor-Essex and will be having a big Family Fun Day on Saturday," said Windsor Pride Fest president David Lenz.
One of the reasons it has become more of a family event, said Lenz, is that there are more LGBT friends, family and allies taking part in the festivities.
Click here for photos from last year's Pride Parade. Click here for photos from the 2010 parade.
University of Windsor sociology professor Barry Adam said what's key in the growth of the LGBT movement through Pride Fest is that it's become more of a celebration than a demonstration.
"The legal equality of LGBT people has improved tremendously over the years, so while in some previous Prides there were political issues that were part of the march, there's been a tendency over time, both here and elsewhere, for there to be more of a move forward towards just celebrations and less politicking," said Adam, who taught the first lesbian and gay studies course at the University of Windsor in 1994.
Adam said that when the first Pride parade took place in 1969 in New York City, it took the focus of raising awareness of civil rights.
Paulette Kupnicki has been involved with Windsor Pride since it began and was co-president for four years in the late 1990s. In 1992, when the first Pride Day took place in Windsor, gay people had to overcome their fear to gather publicly.
"In those days, a place where you could have 100 gay people together, that never happened before. So when we have the numbers we have today, it's huge, but it was really big in those first days when there was so much terror about standing together," said Kupnicki.
She said attending Pride Day 20 years ago meant you were willing to stand up while accepting the risk that you could lose your job, your family or friends.
"Today, there definitely still is discrimination, but it's not the same as it was before. Now we can stand up and celebrate – really, really celebrate. We don't have to protest," said Kupnicki.
Adam said another reason the number of supporters for the event is on the rise is because there is an increased willingness to see LGBT communities as part of the diversity of Canadian society.
And further acceptance from communities leads to more LGBT people feeling comfortable coming out of the closet. According to Statistics Canada, the 2006 Census revealed there were 45,300 same-sex couples in Canada, an increase of 32.6 per cent from numbers in the previous Census in 2001 which reported only 37,900 same-sex couples. This number was five times the growth recorded for opposite-sex couples during the same time period.
But Lenz said a bigger Pride Fest, which is attracting more families through more events, can also be attributed to the ability of the event to attract sponsors.
This year there are 27, led by Caesars Windsor.
Lenz said the festival is for everyone, not just those involved in the LGBT community. Most of the events this year are for people of all ages and include:
Free bowling at Rose Bowl Lanes on Dougall Avenue on Thursday at 7 p.m.
A flag raising ceremony on Friday morning at City Hall at 9:30 a.m.
Jody Raffoul, the Blue Stones, and the Unquiet Dead are performing at Riverfront Festival Plaza starting at 8 pm on Friday. Tickets are $10 and partial proceeds will be donated to the Winsor Regional Hospital Foundation.
Free Family Fun Day hosted by Family Services Windsor-Essex on Saturday from noon until 5 p.m. at Riverfront Festival Plaza, which will feature Katy Perry, Taylor Swift, and Lady Gaga tribute artists, inflatable rides, face painting and a water feature put together by Windsor Fire and Rescue for kids to play in.
A circus-themed party Saturday night at Riverfront Festival Plaza starting at 8 p.m. featuring a dance party to the beats of DJ Shawn Riker from Toronto, Jace from Detroit and Windsor DJ Josh Karmin and accompanied by an acrobatics and fire display and a light show.
The annual Pride parade down Ouellette Avenue starts at 11 a.m. Sunday beginning at Elliott and ending at the Riverfront Festival Plaza, where Bigg Wiggle will be performing along with Toronto's Miss Conception and Kelly and the Kelly Girls.
More information about Pride Fest can be found on their website at pride.christopherpressey.com.