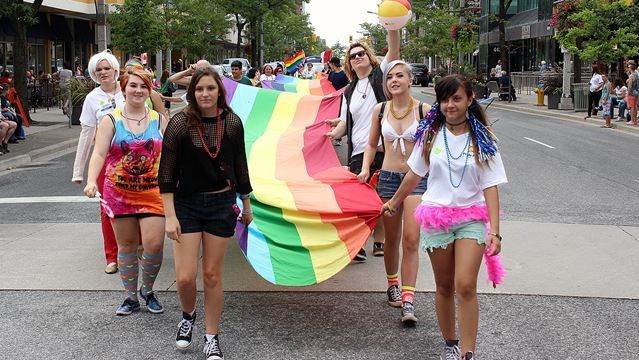 People march with a giant rainbow flag down Ouellette Avenue during the Windsor-Essex Pride Fest Parade, Aug. 9. – Sean Previl
Rainbow flags were marching down Ouellette Avenue this morning as one of two events to wrap up Pride festivities in Windsor and Essex County.
The Windsor-Essex Pride Fest Parade took place along Ouellette Avenue to a crowd of thousands.
The parade, now in its year was one of the final events of the 2015 festival, only to be followed up with Pride Day afterwards at the Riverfront Festival Plaza.
Pride Fest president David Lenz said the festival was once again focused on bringing everyone together in celebration.
"Our festival is inclusive of everyone, no matter what race you are, anything, you're always welcome at our festival and that will never change," said Lenz, who has organized the festival for the past nine years. "Our community is based on being inclusive and that's what will always be."
Lenz did not say how many were attending this year, as official numbers were not known, but said the festival continues to grow and attendance reached more than 5,000 people last year.
The event also brought out politicians with both the Liberal and NDP candidates from across the region marching and riding in cars to show their support.
Windsor West MP Brian Masse said after attending the event for a decade he's impressed with how it's grown both in attendance and acceptance.
"You have to have a community come together to show that social justice issues such as equality are front and centre," said Masse. "When you see how this has evolved, in the decade I've been coming is amazing. You have families out here, you have activists, you have ordinary citizens who want to come out and celebrate together and have fun."
The parade drew out a large number of families, with parents, aunts and uncles bringing their kids, nieces and nephews.
Lyris Anderson brought her two-year-old nephew Carter and six-year-old niece Chloe with her wife Trisha McCracken. She said she brought them because of what they can learn.
"It's important to expose them to diversity, to know there's lots of different families out there and different ways to live and everything's good," said Anderson, 37.
McCracken, 37, agreed.
"It's about being yourself and being proud of that no matter who you are," said McCracken
Making festivals like this about bringing in a diverse group of people is what 41-year-old mother Heather Brown and her husband Mark want by bringing their own children Gracie and Natalie to Pride.
"We just want our kids to know that love is love and it's all the same," said Brown.
The parade and festival also saw people of all ages attend. Debbie Dube, 61, said she loves the festival because of people are embracing themselves.
"Everyone's feeling free and happy and able to be themselves," said Dube. "It's just a wonderful day for young and old."
Enjoying Pride for the first time, 19-year-old Jake Flynn, said Windsor's festival has made him love what it stands for even more and if anyone is unsure whether they should attend, to just come and see what it's about.
"It's open to anybody who wants to express themselves and feel connected to their community," said Flynn. "They don't have to feel uncomfortable about who they're talking to or what their sexual orientation or gender identity is, they can just come out, have a great time and have some laughs."
Lenz said they're already preparing for next year and encourages other people to plan for 2016.