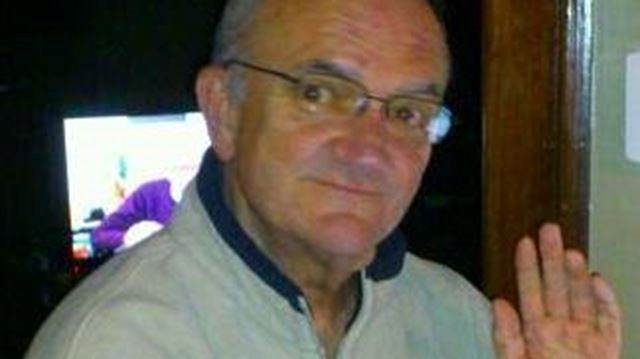 George Hannah is pictured in this photo from 2011. Hannah is being memorialized through a St. Clair College $1,000 scholarship founded by Windsor-Essex Pride Fest. Hannah died July 1 in his sleep. – Gary Waunch
A leader in Windsor's lesbian, gay, bisexual and transgender community is being memorialized through a scholarship at St. Clair College.
George Hannah, co-owner of Red Lounge at 783 Wyandotte St. E., died July 1 in his sleep and a month later Windsor-Essex Pride Fest has set up a scholarship with the St. Clair College Foundation to help a student each year in his memory.
David Lenz, president of WE Pride Fest said they wanted to do something to remember Hannah and give back to the community.
"There's two parts of it, one (is) recognizing George because he was a dear friend of ours and was part of growing the organization and second is recognizing those individuals in the community, as far as education wise, for those who promote equality and diversity," said Lenz, who knew Hannah for almost 20 years.
The scholarship will be worth $1,000 for any student who, as Lenz says, helps promote equality and diversity in the community. The person does not need to be a member of the LGBT community, but does need to be a full time student in any program at the college.
Lenz said he hopes to raise more money each year to add to the scholarship through donations and information on how to donate will be available on the Pride Fest website in the next few days.
When choosing the recipients, Kelly Gosselin, manager of donor relations for the St. Clair College Foundation Office and Alumni Office, said faculty looks at how the applicants best fit the criteria. She said because the selection committee is made up of college faculty, their experience with the students gives them knowledge of the students' activities and community involvement and whether they match the scholarship or bursary.
The George Hannah Red Scholarship, Gosselin said, is a great way to recognize the impact Hannah had in Windsor.
"You can still follow his footsteps in the future," said Gosselin. "The positivity that he brought forward to the community will forever live on."
Gary Waunch, who knew Hannah for more than 20 years and was his roommate for 12, said he was happy the scholarship is being put in place to honour his friend who always tried to face negativity with compassion.
"What they had done is really telling of George and his legacy," said Waunch, who also co-owned Red with Hannah and is still running the business. "His name is going to continue to be affiliated with something that meant so much to him."
Applications for the scholarship will be available in October and it will be presented in February during the St. Clair College Scholarship Awards Ceremony.