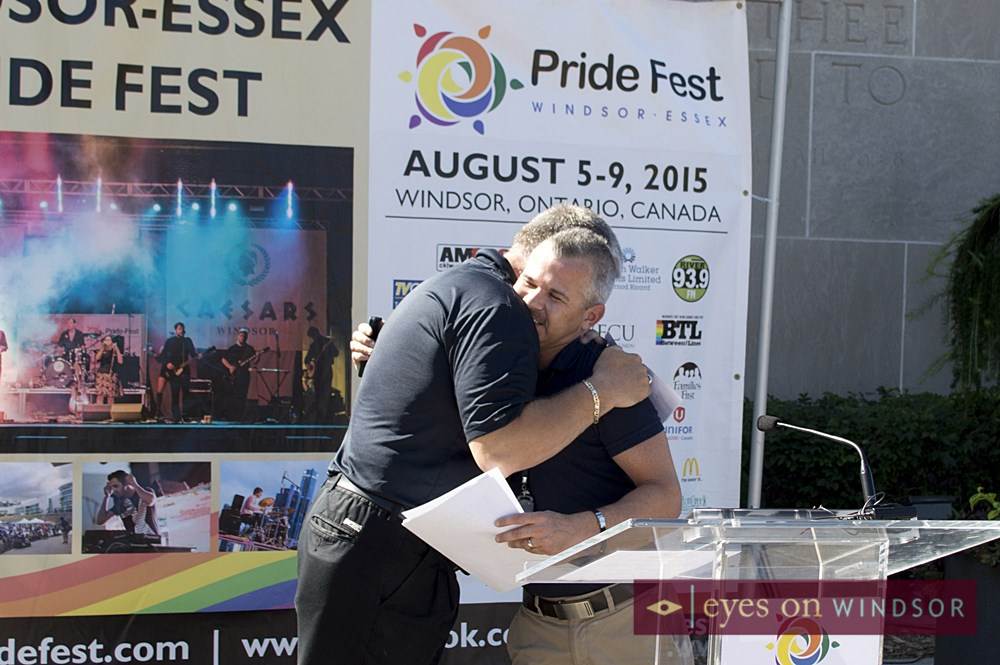 The Pride Flag was raised at Windsor City Hall to officially recognize the kick off of the Windsor-Essex Pride Festival on Wednesday August 5, 2015.
August 5-9, 2015 marks the 23rd annual Pride celebration in Windsor-Essex and organizers are putting the finishing touches on what they say will be one of their best yet.
"One of the biggest challenges is keeping things fresh while staying true to the overall cause and theme," says David Lenz, President of Windsor-Essex Pride Fest. "We've put together many festivals and we know what works. But at the same time we are constantly looking for ways to make us a more attractive event that people will want to go to. We think that this year has a pretty good balance so all that's left is ironing out some logistical items."
The flag raising ceremony is "a small event but symbolically very important to us as it recognizes the greater social harmony we're seeing today in regard to LGBTT issues and also honouring those who have struggled and suffered in the past. This year is particularly important in that we are announcing the George Hannah Red Award which is a $1,000 scholarship at St. Clair College in memory of our dear friend George Hannah, one of the co-owners of Red Lounge. His recent passing hit our community very hard, especially considering how kind he was and how much he supported us."
Along with Lenz, speakers at the pride flag raising ceremony included Mayor Drew Dilkens, MP Windsor-West Brian Masse, Jason Toner (Manager of Group Programs, Tourism Windsor Essex & Pelee Island) and Theresa Sims of the Can-Am Friendship Centre.
Sims performed an impressive ceremonial blessing song followed by Lenz and Dilkens raising the flag.
Some events organizers are keeping as-is are the always popular free bowling at Rosebowl Lanes on Thursday August 6, Saturday during the day is Family Fun Day featuring bouncy castles, face painting, craft table and more. The Saturday night event, billed this year as Carnavale will feature legendary Toronto DJ Deko-Ze, who two years ago delivered the best party ever held by Pride Fest and whom attendants demanded a continuation of his set past the City's 1:00 a.m. deadline for shut down.
Augmenting this event is a set by DJ Nat Young, performances by Toronto's Sofonda Cox and aerial acrobats from Sky Society. As well, the Annual Pride Fest Parade starts at its regular 11:00a.m. time on Sunday August 9th and follows its traditional route down Ouellette Avenue from Elliott Street to the entrance of Riverfront Festival Plaza, where parade participants and the public will enjoy a line-up of terrific entertainment featuring Detroit's Sabin as MC with Liberty Deep Down, Shawnee, Geena Hayze making great performances and fantastic music by DJ Mankind.
One event that will see a slight change is the Friday Night event, billed this year as Live Undefined. This event is designed to highlight bands from our region only and will feature The Source, Tara Watts, Nikki Holland & The Dirty Elizabeths, Chappus & Neuman and Justin Zuccatto.
Other changes are more operational in nature. For example there will be better and more diverse food items available and a broader mix of vendor exhibits. There are also some physical changes to the layout of the festival space due to changes in Ontario's liquor licensing and smoking laws.
"This was a bit of a tough one," says Lenz. "The laws were changed only a few months ago and people may not be familiar with them yet. It's important to bring your ID, to smoke in a designated space outside the venue space, and to keep all alcohol within the designated space inside the venue."
Organizers are hoping, however, that these will be outweighed by the other changes made, including beefing up the entertainment of the Saturday Family Fun Day to include Emerald City and Justin Latam as entertainment in addition to the regularly featured face painting, inflatables and craft tables.
"Overall, we're very happy with what we have planned for this year's festival," says
In addition, just as the organization exists to strengthen the sense of community and contribute to the vibrancy, health and overall well-being of LGBTT people in our area, so too do others. In the spirit of that, some of the proceeds from the funds we raise at our annual festival and our other events throughout the year are donated to support those organizations, groups, and projects which also support our mission. Thus, I am proud to announce that we have made donations to the AIDS Committee of Windsor, Family Services Windsor Essex, Windsor Youth Centre, area school Gay-Straight Alliances, and many more.