All manner of rainbow-coloured participants walked, rolled and cheered down Ouellette Avenue Sunday morning, on route to the Riverfront Festival Plaza, for the annual Windsor-Essex Pride Fest Parade.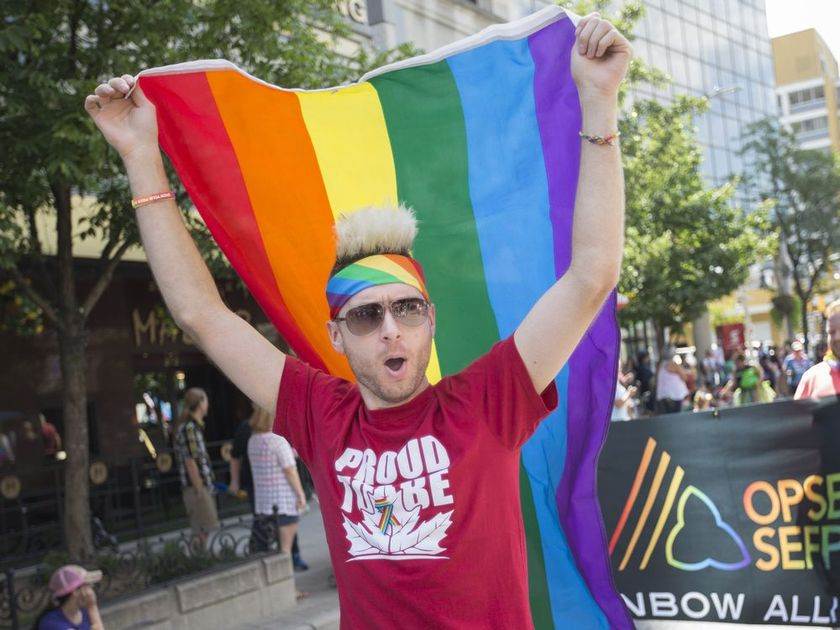 The Windsor-Essex Pride Fest Parade made its way down Ouellette Ave, Sunday, Aug. 13, 2017 with rainbow-coloured flags, clothes and more. DAX MELMER / WINDSOR STAR
Downtown Windsor overflowed with pride Sunday.
In fact with 60 entries this year, the Windsor-Essex Pride Fest Parade was the largest in the event's 25-year history. And with an estimated 5,000 participants over the weekend, it drew one of the largest crowds, as well.
"It's going amazing," David Lenz, president of Pride Fest Windsor-Essex, said Sunday amid festivities at the Riverfront Festival Plaza. "We've had a great turnout."
All manner of rainbow-coloured participants walked, rolled and cheered down Ouellette Avenue Sunday morning. Seniors, kids — even pets — donned bright colours for the extravaganza. Signs and T-shirts promoted tolerance, such as "Love Is Love," and "Less Hate, More Whiskey."
Pride Fest 2017 included a flag-raising at City Hall on Wednesday, bowling at Rosebowl Lanes Thursday night, the Glitterball at the Rondo Friday night, the Glow party at the riverfront Saturday night, and the parade and ensuing get-together at Riverfront Festival Plaza on Sunday — complete with live music and drag shows.
Pride Fest even provided the perfect opportunity to announce an Ontario Trillium Foundation grant of almost $460,000 to help create more social events and provide more outreach into the community.
In the wake of U.S. President Donald Trump's actions against the LGBT community — such as Tweeting a ban on transgender people serving in the military, and his administration's refusal to recognize June as Pride Month — this year's celebration held even more meaning.
"Trump is not well-liked in the community," said Pride Parade co-ordinator Wendi Nicholson. "He's bringing the community together a lot stronger, saying, 'Hey, we're not going to stand for your stuff. We are going to stand strong together.'"
Nikki Holland, lead singer of the Michigan-based Dirty Elizabeths who performed at the Windsor-Essex Pride Fest for the third year in a row, felt the weekend's celebrations provide inspiration against anti-gay rhetoric.
"It has always been an issue," Holland said. "What Trump has allowed is for some of those people who make more closeted statements to say them out loud. The only way we're going to change that is through loving each other and setting an example.
"So we love coming over to this Pride event. It's a great time."
Jamie Plouffe, 23, who is in the process of transitioning from a woman to a man and who participated in the parade as part of the group Trans Spectrum Windsor, said the event offers him support.
"I like being around everyone and feeling like I'm a part of something," he said. "I get to share the event with like-minded people."Bright colours, wigs, hot pants — any style at all. On Sunday the local LGBT community and their supporters showed that having pride also means having fun.