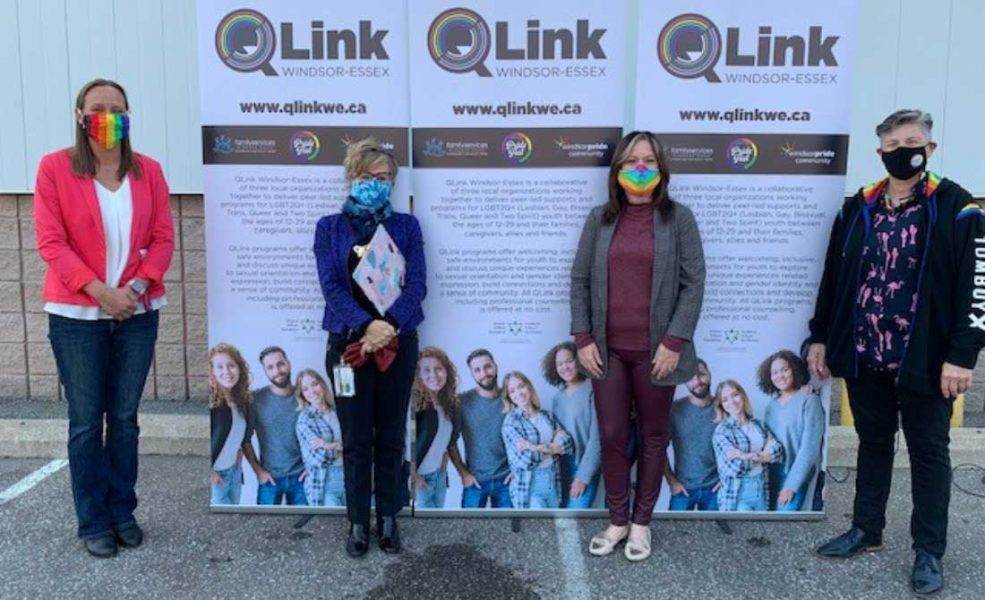 Launch of QLink Collaborative (left to right) Jessica McCulloch, Windsor Pride Community; Beth Ann Ternovan, Family Services Windsor-Essex; Lisa Gretzky, MPP Windsor-West; Wendi Nicholson, President, Windsor-Essex Pride Fest. (photo courtesy of Windsor-Essex Pride Fest)

Biz X Magazine
October 9, 2020
Windsor Pride Community in collaboration with Windsor-Essex Pride Fest and Family Services Windsor Essex have launched QLink Windsor-Essex, a roster of new programs and services for the LGBTQ2S+ community. The collaborative group announced they received funding in the amount of $714,800 over three years by the Ontario Trillium Foundation.
In celebration of this achievement, the media was invited to join all three collaborative partners, MPP Lisa Gretzky, Ontario Trillium Foundation, and other limited invitees at Family Services Windsor-Essex at 1770 Langlois Avenue on October 9, 2020 at 10:00am. The community was invited to watch the event via Facebook Live for the event to maintain health requirements.
We are delighted to be able to offer this unique programming to the Windsor-Essex community says Jessica McCulloch, Board Member of Windsor Pride Community. "The idea behind Qlink is to prioritize the needs of Lesbian, Gay, Bisexual, Trans, and Two Spirit (LGBTQ2S+) youth ages 12 to 29 and their families through increased access to mental health programs, services, and supports that strive to improve emotional and social strengths among LGBTQ+ youth. As a result, LGBTQ2S+ youth who are facing barriers will develop stronger emotional and social connections which will allow for an overall healthier community here in Windsor-Essex. Windsor Essex Pride Fest and Family Services Windsor-Essex share this concern and together we will work to achieve this goal".
"We are very pleased to be able to deliver this programming in support of LGBTQ2S+ youth in our community to help them become a more healthy, resilient and connected individual," says Joyce Zuk, Executive Director, Family Services Windsor-Essex.
"We are thrilled that the community has received this funding that will provide free access to programs and services that are vital to the health and wellbeing of young people. And we are truly honoured to be part of the first LGBTQ+ collaborative project in Windsor-Essex." says Wendi Nicholson, President, Windsor-Essex Pride Fest .
QLink Windsor-Essex is a collaborative of three local organizations working together to deliver peer-led supports and programs for LGBTQ2S+ youth between the ages of 12-29 and their families, caregivers, allies and friends. QLink programs offer welcoming, inclusive, safe environments for youth to explore and discuss unique experiences related to sexual orientation and gender identity and expression, build connections and develop a sense of community. All QLink programs, including professional counselling, is offered at no cost. For more information on the program visit www.qlinkwe.ca.
The Ontario Trillium Foundation (OTF) is an agency of the Government of Ontario, and one of Canada's leading granting foundations. OTF awarded more than $114 million to 644 projects last year to build healthy and vibrant communities in Ontario.
The launch was also broadcast on Facebook live.